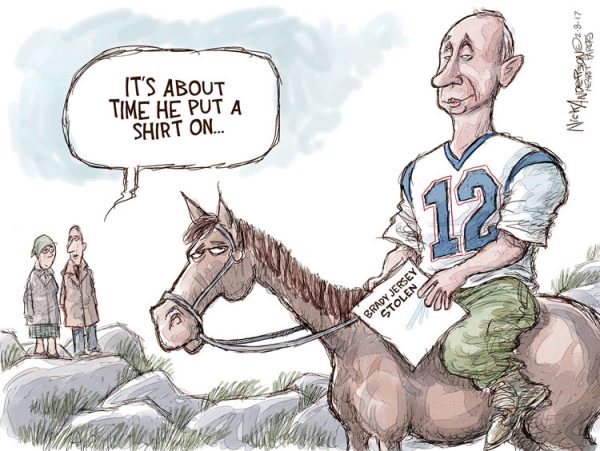 I have two libraries in my house thousands of books. I love to read because I know that for a long time ancestors weren't allowed to.

— Martellus Bennett (@MartysaurusRex) February 7, 2017
From NYMag, "'I Don't Feel Welcome in That House': At Least 6 Patriots Plan to Skip Visit With Trump":
Just five days out from the Super Bowl, the number of New England Patriots who have declared their intention to skip the team's celebratory visit to the White House has jumped to six. So much for the Patriots being Trump's team.

The first two players to say they'd sit out the White House reception did so shortly after the win. And both tight end Martellus Bennett and safety Devin McCourty made it clear that Trump was the reason why. Asked if he was concerned about the response from Trump-supporting Patriots owner Robert Kraft, Bennett said he wasn't "worried at all."

The four players who have since joined Bennett and McCourty have given a range of reasons…

Then there's Chris Long, the only white Patriots player to publicly announce his plans to skip the White House. The defensive end, who publicly spoke out in favor of 49ers quarterback Colin Kaepernick and his national-anthem protest earlier this year, wrote on Twitter that he's "skipping" the visit…

At this rate, Tom Brady might have to go see his pal all alone.
I'd expect President-Asterisk Smallgloves to throw a tantrum and cancel the whole event, but I don't think he can bear to skip a chance to be on the teevee hugging even a C-list celebrity Tom Brady. Maybe he'll ask Tom to bring Mrs. Brady (who, since she seems to be the smarter one in that relationship, would no doubt find herself 'busy with other commitments').
***********
Apart from jeering the opposition, what's on the agenda for the day?