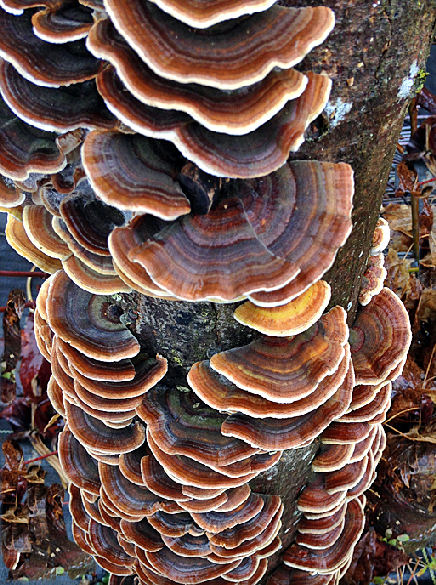 From faithful garden correspondent Marvel:
Starting to get itchy glove-hands, ready to start weeding & other yard chores. Thankfully (unfortunately?) those tasks won't start for a few weeks — after the rains let up.

A friend of mine sometimes challenges/invites her Facebook friends to celebrate the day with haikus & photos. Being happy dwellers in the Pacific Northwest, our poetry/pix 'round these times often include, um, sufficient references to our mild-but-wet clime.

Here's my submission from today:

Mushrooms resplendent
on Winter-watered tree trunks
a subtle beauty
***********
Here north of Boston — where we're expecting another 8-12″ of snow today, on top of the 4″ Friday night, after the 12″ Thursday afternoon — I'm beginning to weaken on my "no tomato garden this year" resolve. Looking at my favorite websites, thinking I can cut back from last year's overambitious forty-plus plants to just a couple dozen. After all, last summer was an anomaly, even the professional market gardeners in the area lost most of their tomato crops (I tell myself).
Problem is, our list of must-haves grows ever longer: Paul Robeson, Cherokee Purple, Black Prince, Blondkopfchen, Japanese Trifele, Black Cherry, Kellogg's Breakfast, Chocolate Sprinkles, Opalka, White Currant… And I always want to try a couple new varieties, for fear of missing out on what will become a new must-have…
We also have a semi-functional basement now, where the cats and dogs aren't allowed, so I've been eying a modest tabletop grow-light setup for seed starting. Anybody got advice on that topic?
***********
What's going on in your garden(s) planning, this week?