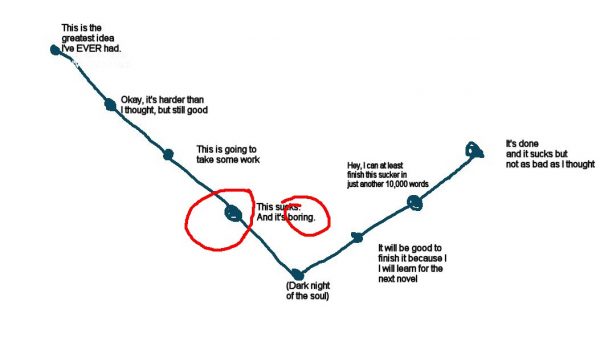 Hat tip to Iowa Old Lady for the chart.
Welcome back.  This week I thought it would be fun to talk about genres –  what are the requirements of particular genres and what drew you to the genre you're most interested in writing. Anyone write across several genres and want to talk about the challenges of changing things up? Especially if you're crossing lines like playwriting/screenplays vs. novels or fiction vs. non-fiction. Do we have any technical writers?
I thought the chart above would be a fun way to address the varying stages of self-doubt that we face as creatives during the process. How to handle the stumbling blocks, tricks to move past it and not let it bring creativity to a halt. What do you do when self-doubt creeps in?
In the next chat or two, I would love it if someone wanted to write up a bit about self-publishing, self-promotion, small presses, traditional publishing,  and the ins and out of each. If we need to split it between two separate chats, that would be great. Hit me up with an email.
Ok, have at it – the above talking points are just to get you started – talk about whatever is on your minds today. Have fun and keep it positive. – TaMara