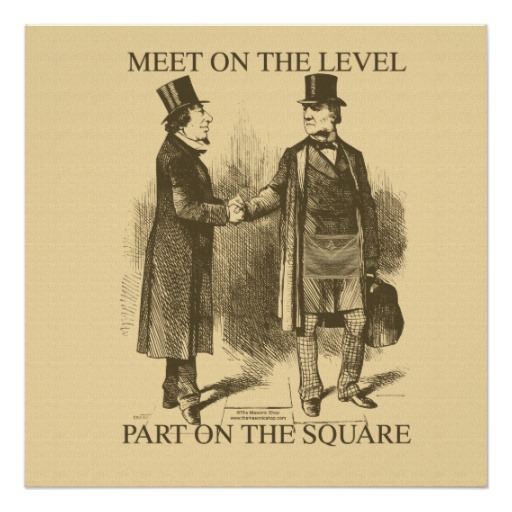 I figure it's about time to share an important part of my identity at 47: I am a Freemason. For most of you, that's not necessarily interesting or of note; for some, it is likely a badge of dishonor. For a few men, I hope it's a sign of Brotherhood. I would like to share a bit about this sub-culture with you as I think it is a good use of my time and attention.
When I was first made a Mason, I was shocked to find out that the values of a centuries-old organization were so appealing that, on the spot, I realized that I was born to be a Mason. As I am decidedly not a joiner, this was a major surprise. And although I am not currently active in a Lodge, I still read, think upon the lessons, symbols, and men that have made me a better person.
Question at the Door
Q: Who comes here?

A: Mr AB, a Free man, of good report, and well-recommended.
Freemasonry is about the never-ending pursuit of the Light. This Light is Enlightenment, as in The Enlightenment. We value morality, education, knowledge, insight, wisdom, and Charity. And Liberty. That's a very important one – we are all Free men.
The American Revolution was planned by many Masons meeting in and around Boston in pursuit of these values, and they helped shape this country's legal and philosophical systems. And although it's become a very conservative Brotherhood in many states as the fraternity has pulled in fewer, less-educated members, there is still a spark of the true Liberal spirit that remains.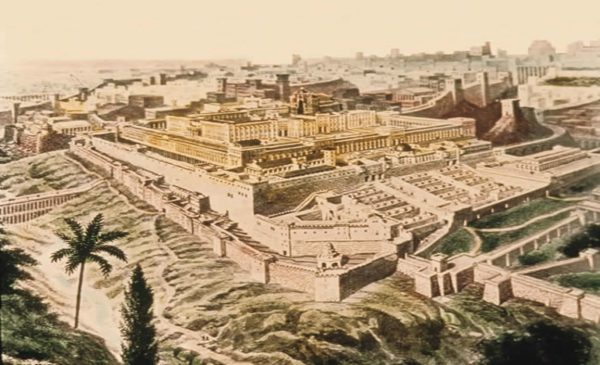 We have lessons, stories, rituals, and procedures that use stories from the Old Testament as a cloak. A central theme is King Solomon, the building of his Temple, and its perfection. There are just three levels in Masonry – Entered Apprentice, Fellowcraft, and Master Mason – as each class of stone masons was employed in building the Temple.  All other degrees beyond these three come from associated Masonic organizations such as Scottish Rite and York Rite. The Shriners are one of the most well-known Masonic organizations, but there are others – Order of the Amaranth, Order of the Eastern Star, Royal Order of Jesters, etc. And there are a number of Masonic bodies for children, mostly to inculcate an interest and understanding of Masonic values so that when they are older, they become lifelong members.
As in many Secret Societies, we keep copious records. The first records from my Lodge, from 1868, share some reflections from three Brothers who rode up to Colorado Springs to attend a different Lodge (an overnight trip each way back then) and had to evade hostile Utes on the way back, sleeping nervously without a campfire and congratulating each other upon their successful return to their home. There are many more stories in our Lodge archives, though not so colorful.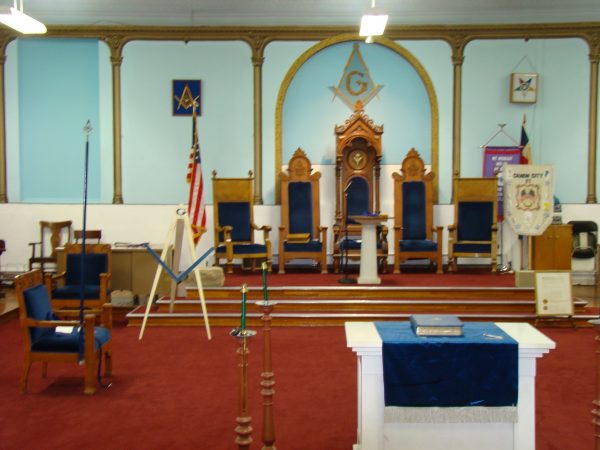 In my last year in Colorado, I was elected to be Secretary of my historic Lodge in a small town of 20,000. In that role, I tried to recruit new Brothers, encourage older Brothers to rejoin us in Lodge, and help out my fellow Brothers as much as I could. We worked hard to renew the energy of the Lodge, and that work  was noticed – we won an award for the best small Lodge in Colorado!
Once I got my hands around the paperwork and procedures, I found myself sharing my own, synthesized lesson about Masonry with new and prospective Brothers: "Masonry helps good men stay good." I truly believe that. It does much more, but its most important duty, and effect, is to offer moral and character instruction to younger men from older men. This support is lifelong, available off and on, when a man may need it.  And should I become destitute, alone, in a strange town, I am at peace knowing that a Mason will give me food and shelter, or will oversee my funeral no matter where I go or what should befall me. I can always reach out for help here, or anywhere a Mason can be found. It's nice to know that when I'm a geezer, I will always have access to some fellowship, a cheap meal, and something to do once or twice a month.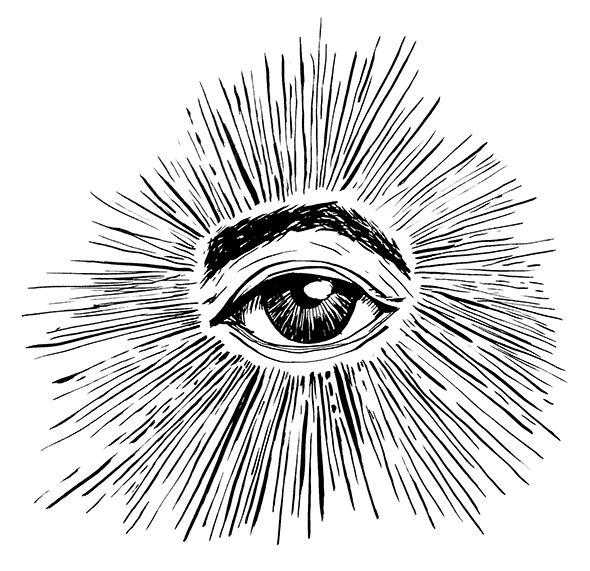 Upon finding out that I am a Freemason, people usually make a few jokes about ruling the world, secret handshakes, hidden symbols, plots, and, of course, devil worship.  So please feel free to ask questions below; I will endeavor to answer them and won't be offended, but first, a bit of history.
Freemasonry is a fraternal order descended, at least allegorically, from the medieval guilds of stone masons. These guilds protected their knowledge so that they were the monopoly in the skilled building trade.  Cowans and other ne'er-be-wells did inferior work, putting up walls that weren't plumb, and so if you wanted your cathedral, castle, or palace built well, you hired the guild's masons.
Freemasons took this idea of a closed group with secret knowledge, rituals, language, and symbols – i.e., geometry, best practices, terminology, and written plans – and applied it to the betterment of man.  Not Man – all of us – but man, each of us (males only, I know….don't get me started). They built a moral framework to encourage and support moral behavior in men. And they hid it in secrecy, symbols, and rituals because much of the Masonic message is revolutionary to a King or other conservative/authoritarian power structure.
We are encouraged to circumscribe our passions lest they rule us. We are not to cheat, lie, or steal. There are specific oaths (called Obligations) we take that bind us to supporting our country and community, helping the young, poor, and infirm, and continuously improving our character. We are instructed to always act and be moral, forthright, honest, helpful, faithful, charitable, and merciful.
Part of the Entered Apprentice Obligation
I furthermore promise and swear that I will not write, print, paint, stamp, stain, cut, carve, mark, or engrave them, nor cause the same to be done, upon anything movable or immovable, capable of receiving the least impression of a word, syllable, letter, or character, whereby the same may become legible or intelligible to any person under the canopy of heaven, and the secrets of Free Masonry be thereby unlawfully revealed through my unworthiness.
Although we take an oath to not write down (see above) any of the material, the Grand Lodge of Colorado regularly publishes a Clear Text key that has everything written down. I was given printouts, some hand typed in the 70's, of the pages of stuff I had to memorize by high-ranking Masons. As Secretary, I retyped the materials for new Brothers to study. As a Master Mason, I have a copy of this key, as well as a book of Lodge and Grand Lodge operations. And of course nowadays, lessons use PowerPoint, printouts from PDF or Word documents, etc. Here in Virginia, that information is not written down; they are much more old-school and so new Masons must spend countless hours with their Brothers, learning the lessons orally. There is much talk of the secrets of Freemasonry, but since the 1920's numerous people have published the rites, Obligations, and associated information.
To me, this needs to continue changing – we need to adapt to the modern world and lack of time otherwise we will have even fewer members. Not many men can spare 1-3 hours 2-6 nights a week for a year or two just to become a Master Mason, much less learning the lectures. Everything that is done in Lodge is by memory, word-for-word. Imagine having to learn a 10 minute lesson full of archaic language and grammar and full of Old Testament names, stories, and events. And then imagine delivering it in public, with 10 or more older Masons looking to catch you in the slightest mistake. There can be lot of pressure.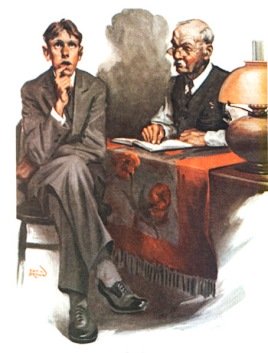 When we take our profficiencies,  we must, with a Brother prompter/questioner, sit in Open Lodge in front of all other Brothers present and answer a bunch of questions and swear an Obligation (oath). It must be perfect, word for word; all the other Brothers are listening intently for the slightest error as it is a point of pride for a Mason to be able to teach a lesson or make an Obligation perfectly. Many 80+ year old Brothers can give a 15 minute lecture perfectly, word-for-word. It's truly a beautiful thing.
We don't worship Lucifer, the Devil, or anything else. This is not religion, it is moral instruction cloaked in allegory and Old Testament stories. There is an altar at the center of the Lodge room, but it is used to hold the Holy Book (usually a Holy Bible) when Lodge is open and in session. When making an Obligation, a Mason can use the Holy Bible, Talmud, Holy Koran, or a few other recognized holy books; this is to ensure the faithfulness of the Brother when taking a serious oath. By the rules (and Obligations we take), Atheists are not welcome, but I've heard lots of creative religious beliefs such as belief in the Force, Order in the universe, Mathematics, Geometry, etc. God is often referred to as the Great or Supreme Architect in Lodge, which opens with a prayer and the Pledge of Allegiance, and ends with a prayer.
Although the Nazi crimes against the Jews of Europe were unspeakable, they did not spare the Freemasons. Before Hitler's rise, there were over 175,000 Freemasons in Germany, after the war, there were just 5,000; they had been targeted for extermination.  Freemasons represented democracy, a mortal enemy to Fascism. In defiance of Hitler, Freemasons used an alternate secret symbol, Hitler's favorite flower, the "forget me not".
In preparation for the Japanese invasions of Singapore and other British-controlled territories, for years the Germans mailed anti-Masonic propaganda to households, hoping to spread disunion and mistrust.  Having actually been to the Grand Lodge of Singapore and seen some of these mailers and relics from the war, I can assure you that the result of this was horror: the Lodge was occupied and ransacked, used to quarter Japanese troops, and across the street was one of many interrogation/torture chambers.  It is likely that torture, rape, and execution defiled the Lodge.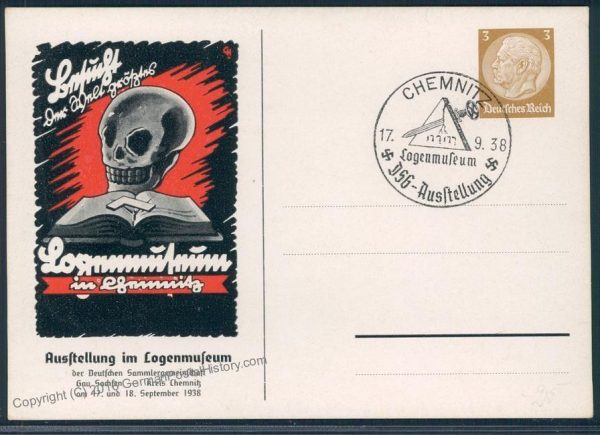 The reaction by Christian churches to Masonry is mixed. Sadly, some sects are anti-Masonic. It still pains me to know that a destitute Brother moved to my small town, was dying, and the local Catholic priest he talked to told him we were Satanic and that, since he was dying, he needed to worry about his soul going to heaven and not to hell. So he avoided us and died alone – without the Brotherhood to give him company, food, and love.

Part of this Brotherhood is taking care of our elders in those later days and at that final moment; it is a sacred duty I care about more than most and I hope to learn and be allowed to perform the Masonic Funeral rites. They are short, beautiful and respectful and coexist well with a religious ceremony.
When we close the doors and open Lodge, all Brothers present are equal, and the outside world stops existing for a couple of hours. This is a nice ritual – blocking out the world and any other concerns than those present in front of us. My Lodge was a poor one compared to many, so we didn't require suits or tuxes for officers, but we are instructed and constantly reminded that in Lodge, we are all equal, young or old, rich or poor, black or white. That's a nice thing, rare in the modern world. There are stories I will share of Presidents sitting down with common Brothers without extra respect or attention because we are equal.
The Lodge Room Over Simpkin's Store

By Lawrence Greenleaf

The plainest Lodge room in the land was over Simpkins' store,
Where Friendship Lodge had met each month for fifty' years or more.
When o'er the earth the moon full-orbed, had cast her brightest beams,
The Brethren came from miles around on horseback and In teams,
And 0! what heavy grasp of hand, what welcome met them there,
As mingling with the waiting groups they slowly mount the stair,
Exchanging fragmentary news or prophecies of crop,
Until they reach the Tyler's room and current topics drop,
To turn their thoughts to nobler themes they cherish and adore,
And which were heard on meeting night up over Simpkins' Store.

To city eyes, a cheerless room, long usage had defaced,
The tell-tale lines of lath and beam on wall and ceiling traced.
The light from oil-fed lamps was dim and yellow in its hue,
The carpet once could pattern boast though now 'twas lost to view
The altar and the pedestals that marked the stations three,
The gate-post pillars topped with balls, the rude-carved Letter G,
Were village joiner's clumsy work, with many things beside,
Where beauty's lines were all effaced and ornament denied.
There could be left no lingering doubt if doubt there was before,
The plainest Lodge room in the land was over Simpkins' Store.

While musing thus on outward form the meeting time drew near
And we had glimpse of inner life through watchful eye and ear.
When Lodge convened at gavel's sound with officers in place,
We looked for strange, conglomerate work, but could no errors trace.
The more we saw the more we heard, the greater our amaze,
To find those country Brethren there so skilled in Masons' ways.
But greater marvels were to come before the night was through,
Where unity was not mere name, but fell on hearts like dew
Where tenets had the mind imbued, and truths rich fruitage bore,
In plainest Lodge room in the land, up over Simpkins' Store.

To hear the record of their acts was music to the ear
We sing of deeds unwritten which on angel's scroll appear
A widow's case for our helpless ones Lodge funds were running low
A dozen Brethren sprang to feet and offers were not slow
Food, raiment things of needful sort while one gave load of wood,
Another shoes for little ones, for each gave what he could.
Then spoke the last 'I haven't things like these to give out then,
Some ready money may help out' – and he laid down a ten.
Were Brother cast on darkest square upon life's checkered floor
A beacon light to reach the white was over Simpkins' Store.

Like scoffer who remained to pray, impressed by sight and sound,
The faded carpet 'neath our feet was now like holy ground.
The walls that had such a dingy look turned celestial blue,
The ceiling changed to canopy where stars were shining through.
Bright tongues of flame from altar leaped, the G was vivid blaze,
All common things seemed glorified by heaven's reflected rays.

O! wondrous transformation wrought through ministry of love-
Behold the Lodge Room Beautiful! fair type of that above,
The vision fades-the lesson lives! and taught as ne'er before,
In plainest Lodge room in the land-up over Simpkins' Store.
It is a brotherhood, but I hope that changes as Masonry is shrinking as it has less appeal in these days of internet, TV, video games, and too-busy lives.  I expect that some state will decide to let female members in, and likely will get kicked out of their Jurisdiction, but should that happen, I will try to join a Lodge in that state to register my support, let me tell you! As with many organizations, if something new gets attention and membership swells, then change begins to take place. A man can hope.
My Worshipful Brother informs me that there are a number of female Lodges in Europe, and that some "women are very fond of their Lodges in Holland." In the near future, I will be writing about The Order of the Eastern Star and some of the other Masonic Bodies that admit women. And I'll research these female-friendly Lodges in Europe. I expect that'll be as neat to learn about as it will be to share!
There is much more tolerance for gay men now, but it's certainly not the most gay-friendly group because so many members are old men stuck in their biased ways.  It was a valuable lesson for me to learn to look through the bigotry some older Brothers ooze and see their beauty as a Brother Mason, with much insight, knowledge, and fellowship to offer. To be honest though, with some of them  I could never get over it.
Some other time, I'll share some lessons and insights, stories, and more history. Along these same lines, I hope to explore some other sub-cultures that I belong to, as well as other ones that other Front Pagers or commenters enjoy. In these days of national turmoil, it's important that we find other things to discuss and bond over lest we become 100% fixated on politics and subject our attention to the whims of a madman.
I'm happy to answer any and all questions to the best of my ability; I don't know it all.  But first – to you men out there, should this topic have sparked any interest, please seek out the nearest Masonic Temple/Lodge and call or email them and tell them you're interested.  I wasted years not knowing that the best way to become a Mason is to ask – there's a bumper sticker around that says 2B1 ASK1.
Not: this post was slightly edited for clarity, accuracy, and to note that there are female-friendly Lodges in Europe, an important detail!