I saved a screenshot of this morning's CNN home page the way my mother once squirreled away newspapers covering events like the Kennedy assassination, the moon landing and the Watergate denouement: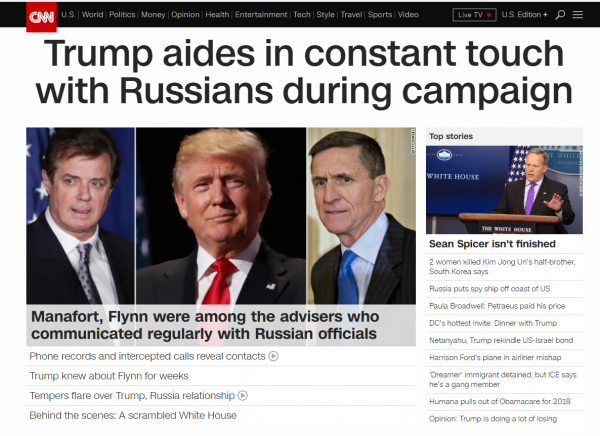 We're not there yet. But to me, anyway, it feels like something historical is afoot, that I must not only bear witness but maybe save clippings for posterity. (At least my news pack-rattery won't demand drawer space from my descendants!)
Twitler was on a tear this morning. Maybe he has that "history in the making" feeling too. It might be wishful thinking, but I could swear I detected a faint whiff of flop sweat and desperation emanating from the pixels below: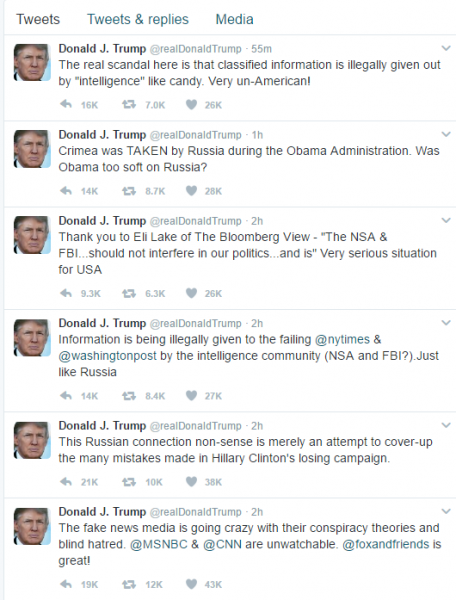 Tell me that most recent tweet doesn't sound like something Greenwald would say. And the fuck of it is, I would normally agree: We don't want the intel community mucking around in our politics.
It was an outrage when Comey stuck his big, fat, morally upright thumb on the scales in the waning days of the election. So why cheer the intel community on now, hoping they dump enough dirt to bury the Trump admin?
Because this isn't a normal administration. Trump referred to me and the 65 million other Americans who didn't vote for him as "enemies" in his New Year "message." He's done nothing to reach out to anyone other than his rancid fan base. He's stocked the government with racists, misogynists and bigoted kooks, and his top advisers are openly fomenting a global white nationalist effort to undermine Western democracies.
The Republicans who control Congress are willing to go along with Trump's anti-American agenda if doing so will allow them to cut taxes for billionaires and take away people's access to affordable healthcare. They've said so outright, so they can't be trusted to do their job and keep our government from being controlled by a hostile foreign power.
The judicial branch is the last leg on the wobbly-ass stool of American democracy, but Trump is doing his best to saw that off too and has real power to shape it for the future. Anyone think he'll ensure its independence?
So, spooks it is. No, I don't trust them completely. No, I don't think it's a good idea for the intel community to manipulate domestic politics (and I wish we'd mind our own business abroad too).
But desperate times call for desperate measures. If it takes leaks to force the Republicans in Congress to work with the Democrats and do their goddamned jobs, then bring on the drip, drip, drip.
PS: The media is unanimously reporting that Dense Pence was in the dark about Flynn's actions. Are y'all aware of any independent corroboration of that? I haven't seen it.
It looks like they're taking the administration's word on that, and this administration lies constantly and shamelessly. On camera. All the fucking time. We shouldn't take their word for anything.