Bloomberg's Zachary Tracer has a good review of the impact of Humana leaving the Exchange market with a focus on eastern Tennessee.
At least 40,000 people in the Knoxville area may have no health plans to pick from in the Affordable Care Act's markets after insurer Humana Inc. opted to pull out from all 11 states where it still sell plans in 2018. Another 39,000 in the state would be forced to find a new insurance company….
Humana chose a strategy that would give healthy individuals comparatively bad deals.  So healthy individuals stayed away.
Bloomberg has a great chart on the composition of the risk pool for Humana in the counties where they are the only carrier. It is an old risk pool.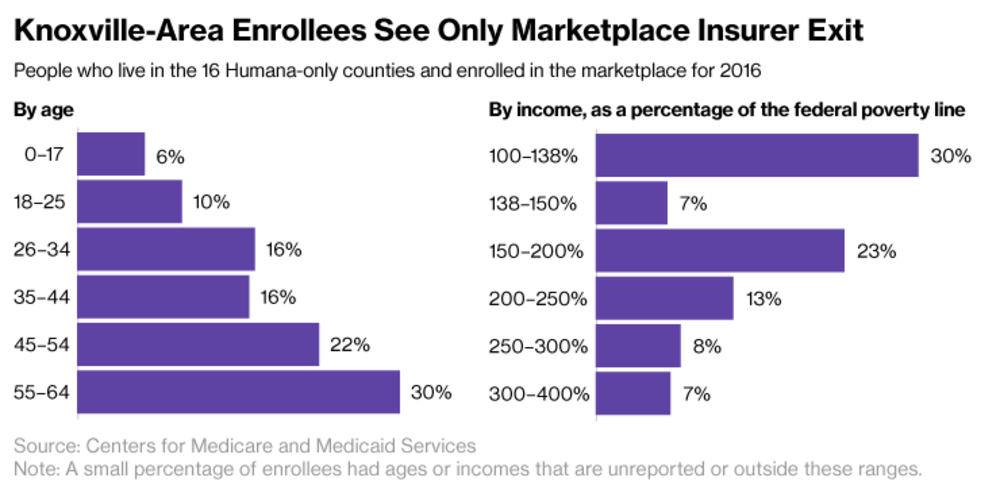 The total risk pool is 32% under the age of 35. The adult (18+) risk pool is 27.5% under the age of 35.  Age is a good first pass predictor of health although it is a very rough predictor.  In 2016, Healthcare.gov states had 36% (Table 4) of their enrollment be under the age of 35 and 30.5% of their adult enrollment be between 18 and 34.
Humana's strategy was to offer a single Silver plan in these counties.  This was the benchmark plan.  Anyone who signed up on Healthcare.gov and was eligible for subsidies paid their full personal responsibility contribution.  There was no chance for a better deal.  In zip code 37763 here are what people at various incomes had to pay for a Silver plan: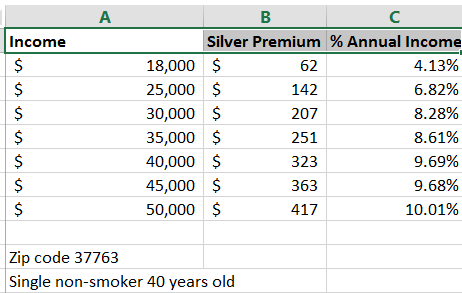 Silver plans get expensive very quickly.  The Bronze plan for a 40 year old is roughly $90 less expensive but it comes with a $4,800 deductible and a $6,550 out of pocket maximum.  What this cost curve means is that quite a few healthy individuals who are not rolling in cash will look at the prices (even after the subsidies) for coverage and take the risk that they will either be okay in 2017 or that they can get some type of coverage some other way if they really need it.  This logic does not apply to people who are sick as they know that they need coverage and they will pay the post-subsidy price.
This was a deliberate choice by Humana to engage in a strategy that made them attractive to an older population that is likely to be sicker.