A hearing in El Paso County in Texas went from ordinary to "unprecedented" last week when half a dozen Immigration and Customs Enforcement agents showed up at a courthouse where an undocumented woman was seeking a protective order against the boyfriend she accused of abusing her.

The woman, a citizen of Mexico who was living in El Paso had been driven to the courthouse by a victim's advocate from the Center Against Sexual and Family Violence, a shelter for victims of domestic abuse where she had been living.

She left under arrest.
This is a disgrace, and an incredibly dangerous one.
Most obviously: anyone w/out documents facing a threat from their partner, former or present, has just been told that the legal system, cops, anyone, are no longer available to them. They're on their own. They've got a target on them, as their abusers now know that they can act without fear of official action.
Some of them will die. One third of the murders of women in the US are committed by an intimate partner.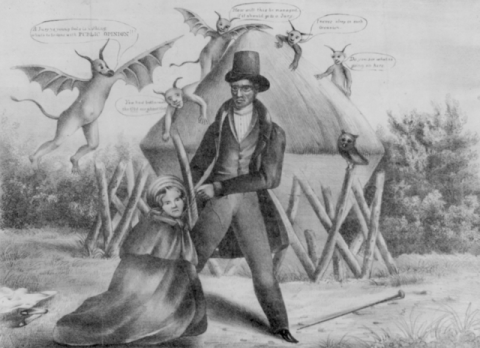 Increasing the pressure to stay in an abusive relationship tees up more victims.  Making it harder — or impossible — to seek official help locks people in danger.
The chilling effect extends beyond the home.  If reporting a crime puts you in contact with officialdom; if agreeing to testify does so…and so on. You get the idea. The risks of trying to engage public safety resources have just shot up for immigrant and minority communities — from an already no-fun base.
ICE, Trump, and the Republican party:  accessories before the fact to harm, murder and misery.
Every day, down every avenue, these folks have got to named, shamed, and fought.
Image: Unknown artist, A Very Bad Man — on the trial of Ephraim K. Avery for the murder of Sarah Maria Cornell. 1833.