Saw this on the WaPo front page first thing this morning, and it's been bugging me all day (but I was too busy to complain about it here until now):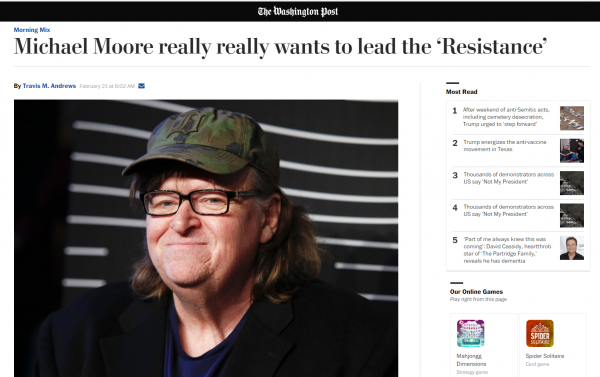 Moore made a fortune picking through the ruins of the Rust Belt, which makes sense because manufacturing decline decimated his hometown. The Rust Belt killed Democrats' hopes this year, and according to the "I Told You So" caucus, which occasionally includes Moore, it was because Democrats forgot the white working class. So it's not surprising Moore would see the dawn of the Trumpocalypse as his Big Moment.
But the spontaneous resistance that rose up after Trump's election was led mostly by women and non-white people. I'm not saying white men aren't a part of it and have no place in it. They are, and they definitely do. But the groups that are flooding town halls and crowding meetings are local people who are worried about losing their rights and healthcare, not laid off factory workers or coal miners. (Maybe they're still waiting for Trump and his cabinet of plutocrats to reverse green energy trends or enact tariffs that don't backfire.)
I don't mean to slag on Moore — his films, especially his early stuff, IMO, were groundbreaking and necessary. Like me, he was an idiot Naderite in 2000, but he also learned his lesson. He was a Bernie guy last year, but he came out strongly for Clinton after the primaries ended and did his best to bring hold-outs into the tent before the voting started. Good for him.
But the resistance movement needs participants, not celebrity leadership, and especially not the leadership of celebrities who've made a decades-long career out of being professional leftists. That's no knock on celebrity activists or famous professional leftists — if they're with us, I for one am happy to have them. But behind the crowd, please. Not in front. What do y'all think?