Controversies frequently arise in comments here and elsewhere when the topic of Trump voters comes up. It goes something like this:
PERSON A: Fucking Trump-voting assholes! They're either racist, sexist, xenophobic shitheads or didn't think their candidate's racism, sexism and xenophobia were deal-breakers. So fuck those motherfuckers!
PERSON B: Neo-liberal losers gonna keep neo-liberal losing with that neo-liberal voter outreach strategy! Just get ready for eight years of Trump, neo-liberal establishment purity mavens!
Setting aside the fanciful notion that anyone venting on an almost top-10,000 left-leaning blog is officially in charge of Democratic Party voter outreach and is sharing tactics here, let's review some pertinent facts in graphic form, put on our thinking caps and tackle the hard questions: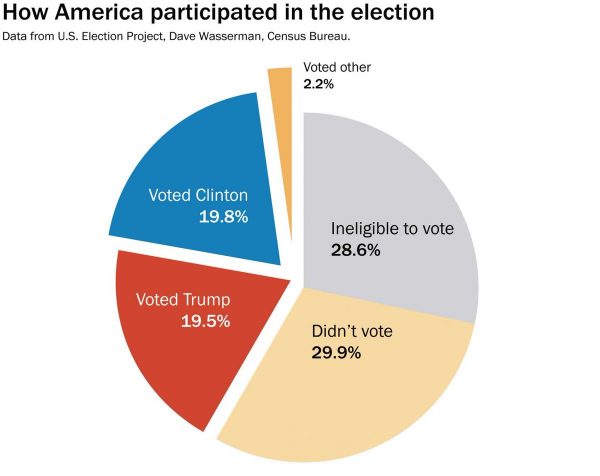 Assuming that this data is accurate, the question is, would it make more sense for Democrats to pursue the "Voted Trump" group (19.5%) or the "Didn't Vote" segment (29.9%)? Now, I'm really dumb at math and statistical inference, but I'm pretty sure that not only is the second group larger, its members have not already signaled outright hostility to our coalition.
So, if I were the Democratic Party's outreach coordinator (I'm not!), I'd make the second group my top priority — helping folks overcome registration issues, building relationships at the local level, etc., to get them off the sidelines.
Now, let's consider variances among the Trump voters. I don't claim any special insight, but I have observed over the years that people aren't always rational in their actions. They don't always take their civic duties seriously. Some folks just aren't all that bright.
Sometimes people will vote for an asshole because they "want change" or they "hate politics" or they have a dumb but typically American reverence for rich people and a belief in plutocrats' superhuman powers. Maybe their minds were poisoned by Iron Man, I don't know.
Anyhoo, is there a meaningful distinction between those folks and hardcore Trumpers? I'd say yes. Here's a crude drawing to illustrate how that difference might look: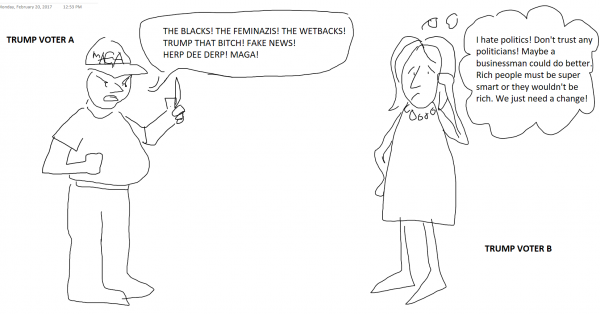 So, to recap: If I were in charge of outreach for the Democratic Party (which I'm not!), my objectives would be to 1) keep the base that voted with us in 2016 and won the popular vote by nearly 3M on board, 2) see if we can get folks who DIDN'T vote and who share our values off the sidelines, and 3) hope some of the dumbasses who zigged toward Trump last time zag toward Democrats in 2018 now that they see what a fucking disaster their candidate is as president. The end.