The lady friend (she's actually ok with you all knowing her name as she has quite a web presence and has commented on one of the posts about her, but I just like saying the lady friend and pissing you all off when I get the chance) left this morning early, and I had two missions to complete. I had to pick up four antique chippendale chairs for her, and I had to get a corner cupboard for me. So I grabbed Gerald and we fired up the trusty Subaru, programmed google maps to get us to Cheswick, and off we went to the NE side of Pittsburgh.
Pro-tip: The tunnels at Pittsburgh suck around rush hour. Learning experience.
Right around then, the lady friend called from the road and informed me she could not find her wallet. She had had it this morning, and I knew she got gas first thing, so I asked her how she bought gas. Turns out she left her wallet on the top of the car at the gas station in Washington, PA. Four hours away from where she currently was. She told me she has only lost her wallet once in her entire life, and my first thought was "Ha- the tractor beam of comic error that is my life already has her in its grasp."
So to figure out where she got gas (she had no idea because why would she know the name of a damned gas station in the middle of nowhere), I told her to go online and look at her debit card info, and then she looked it up and called the gas station. The person working did not speak English and she sounded really pissed and irritated, so I had her text me the number, I would call, and then after we picked up the chairs, I would drive the to Washington and see if they had it.
Called them up, and he REALLY did not speak English very well. AT ALL. He just kept saying "come tomorrow the girl who was working will be here," which, for obvious reasons, was not satisfactory. I asked to speak to his boss, and he told me has no boss. It took me a while to realize he meant he had no manager, so I asked him "If someone were to rob you, who would you call."
He replied… "police."
This is a reminder that just because someone doesn't speak English, it doesn't mean they are a moron. I then asked him "ok, after the police, who would you call" and he gave me the number. I called him, he said "oh yeah, he doesn't speak english, I can call him."
Got there, loaded up the corner cupboard (a steal at 150 bucks), programmed google maps to get us to McKeesport, and off we went. The guy we were buying them from had a NYC cell phone number and a British accent, and when we got to the address, and it was not a nice area. At all. Although I do think I know where to buy some drugs now. At any rate, we called him, and he said he was waiting outside, but there was no one there. Again, this was a sketchy neighborhood, and this was craigslist, and the chairs were 300 bucks, so I said to Gerald "maybe this is a setup and we're about to get jacked." That is when the guy called back and told us that we must be at the north version of that address, he is at the south version of that address, on the other side of the library. I thought DC was the only place that had that kind of fuckery, but we drove off and got to a part of the neighborhood that was WORSE.
Outside is this sketchy looking dude, barefoot, looking like a 60 year old Jeff Spicoli. And he was living in and ABANDONED CHURCH. I told Gerald I would go in and pay and we would get the chairs, and he could stay with the car because Gerald for reasons I do not know is afraid of churches. Some things are best left unasked. The guy said "oh no, you don't want to do that" and ushered us inside and deadbolted the door after we were in. At any rate, the church was completely gutted on the inside, the flooring was nothing but 1/2″ plywood, and he had fashioned a living room in the middle and a kitchen in the corner and the whole interior was under construction and there were antiques everywhere. Got the chairs, loaded them up, and at this point we had some serious Beverly Hillbillies shit going on.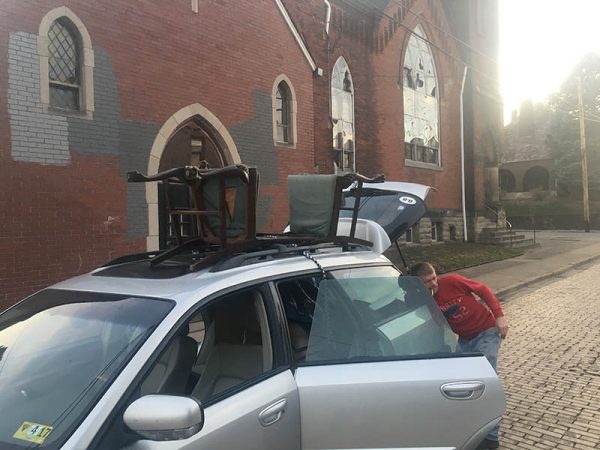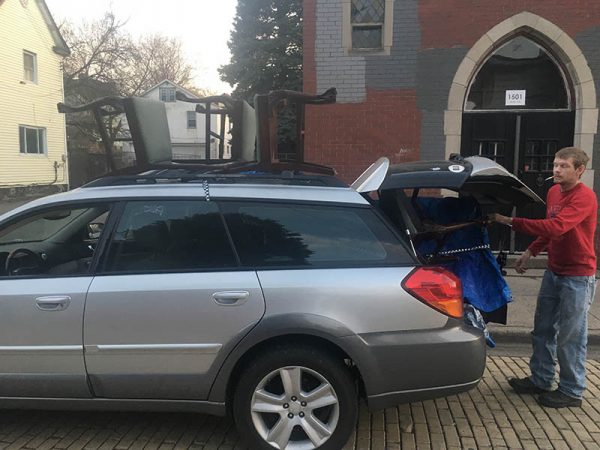 For extra flavor, I was wearing overalls. Because that's how I roll.
Drove an hour to Washington, got to the gas station, no wallet. In fact, I think the guy was proud of the fact that he had learned the word wallet, because he said "no wallet" three times and smiled. Loaded up, drove off and… hit a Philly sized pothole and the glass in the corner cupboard shattered.
Five minutes later, the check engine light went on, and the car started missing horribly. Fortunately, if there is one person in the world to be with when a car breaks down, it is Gerald, because the guy is a fucking genius who can do anything with cars. we turned and went back a couple miles to an Advanced Auto Parts, ran a diagnostic, and most of my spark plugs had gone tits up. Bought some spark plugs and just gambled we would make it home, and if not, he would have his cousin bring tools to wherever we broke down and he would MacGuyver some shit with the new plugs.
Got home. A four hour trip turned into eight, the glass in the cupboard is shattered, my car is in need of the ER, and someone shit in the living room while I was gone and I know it was fucking Rosie.
Here's the corner cupboard and a stark reminder that my photography skills blow: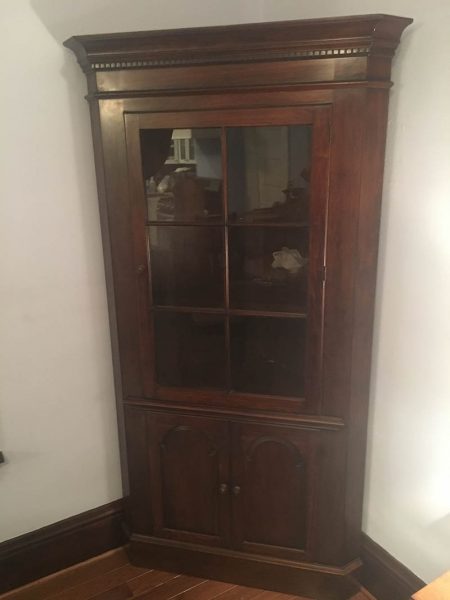 I need a shower.