This is interesting. The Republican strategy right now seems to be a game of chicken run against their own members.
Source said Rs will hold hands and jump off the cliff, someone called it the Thelma and Louise plan https://t.co/xGGnImBJxG via @WSJ

— Harris Meyer (@MHHmeyer) February 27, 2017
The idea is that there are not 24 House members who fear a general election more than their primary or 3 Senators who have either principles or a legitimate fear of a general election to vote against the leadership. They would try to rush through a reconciliation bill that takes out most of the funding of the ACA, the individual mandate, the employer mandate and perhaps add some type of age adjusted subsidies to replace income related subsidies. The idea is that this bill can pass with 50 Republican Senators and the Vice President voting for it in the Senate.
There is a problem:
Republican Rep. Mark Meadows, the chairman of the conservative House Freedom Caucus, told CNN on Monday that he will vote against a draft of the GOP Obamacare repeal bill that was leaked last week….
Meadows said what is unacceptable to him are the refundable tax credits included in the draft of the bill. Those tax credits, the North Carolina congressman said, are nothing short of an "entitlement program."
The House Freedom Caucus thinks that the 2009 individual market and Medicaid levels are too generous and too nice. A bill without any age adjusted subsidies of any sort is guaranteed to death spiral the individual market instead of only possibly death spiral the market. The House Freedom Caucus is also sufficiently large to deny a majority to the bill. The challenge is that anything that makes the bill more tenable to the House Freedom Caucus makes it much harder for the twenty three Republicans who are in districts that Hillary Clinton won last year and the dozen or so that are in competitive districts to hide the fact that they are killing the individual market.
Getting to 218 could be much harder than I thought as I always placed my hope on assembling a 51 vote blocking coalition in the Senate.
The following map is where rates for a 40 year old non-smoker would be for the cheapest Bronze plan on the market if there is age adjusted subsidies only. These are plans with $7,000 out of pocket limits. The red zones are very expensive plans for very high deductibles and are the points of local constituent pain that can be used to hammer representatives to look out for their own districts.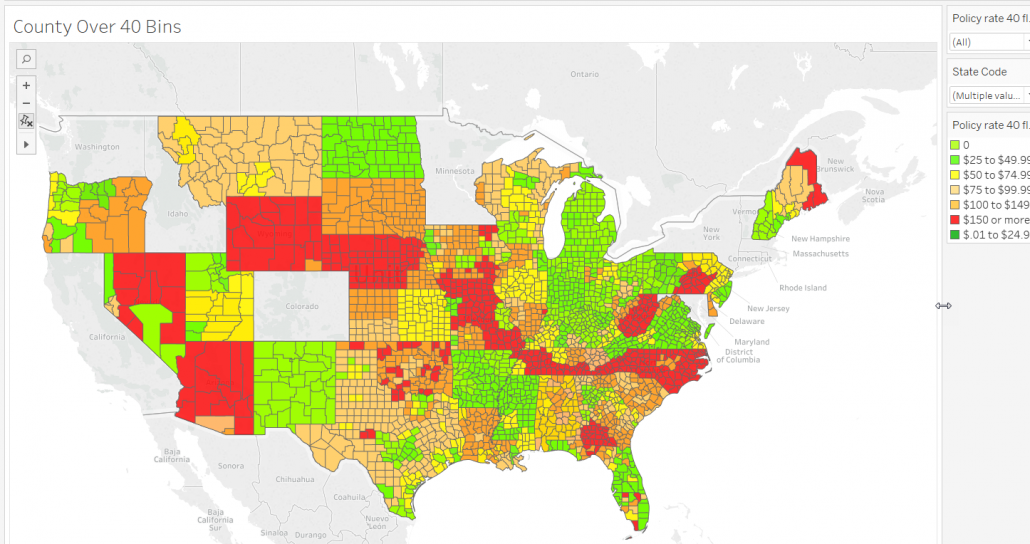 Let's tell local stories with good data of the pain that the House Freedom Caucus wants to inflict on us.