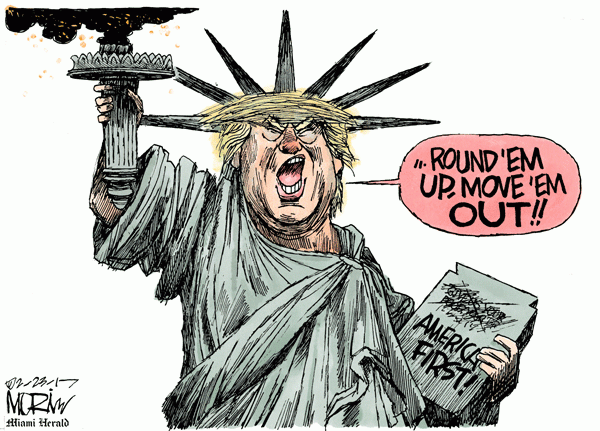 Per the Washington Post:
… Trump met in the Oval Office ahead of the prime-time address with Jamiel Shaw Sr., whose son was shot by a gang member in Los Angeles in 2008, and Jessica Davis and Susan Oliver, who were married to California police officers killed in the line of duty in 2014. All three were guests in the presidential box in the House chamber, as Trump aimed to make a pointed message about the costs of illegal immigration a week after the Department of Homeland Security rolled out sweeping new enforcement guidelines.

Trump was joined several times on the campaign trail by family members of victims of crimes committed by illegal immigrants, including so-called "angel moms," whose children had been killed. As president, Trump has pledged to raise their profiles, and the new DHS guidelines issued last week included a provision to create a new office to support such victims and their families.

"I have ordered the Department of Homeland Security to create an office to serve American victims," Trump said in his speech to Congress. "The office is called VOICE –- Victims Of Immigration Crime Engagement. We are providing a voice to those who have been ignored by our media, and silenced by special interests."

Trump's spotlight on the victims' families has sparked an outcry among those who charge the president is exaggerating the risks to sow public fear to make his proposals more politically expedient. Studies have shown that immigrants, including the estimated 11 million living here illegally, have lower crime rates than the native-born population…
With such a kewl acronym, who could be against it?
Every single Republican office-holder owes America a public apology for putting this monster at the head of their party, and then ratfvcking him into the Oval Office.