Molina Insurance, a fairly successful Exchange carrier that has usually been profitable on and off Exchange, issued a statement yesterday afternoon concerning the House Repeal bill. The statement is ugly and it illustrates a very important point of the Republican bill. It will create an on-Exchange death spiral in many counties.
Just out: As a practical matter, this renders the #ACA replacement D.O.A.https://t.co/YdE0H1fiOt pic.twitter.com/jjIujan2Cy

— Andy Slavitt (@ASlavitt) March 7, 2017
So what is the model that leads Molina to believe the Exchanges would see mass disenrollment and high price hikes under the Republican plan? It is a combination of the flat age based subsidies and the late enrollment penalty being a proportion of premiums. Some markets and counties would not be affected. Portions of Texas and Pennsylvania for instance would see 21 year olds be able to buy Bronze plans at zero cost. Those counties should have healthy risk pools. But risk pools are not county specific. They are state specific single pools. High cost counties will have a very different dynamic.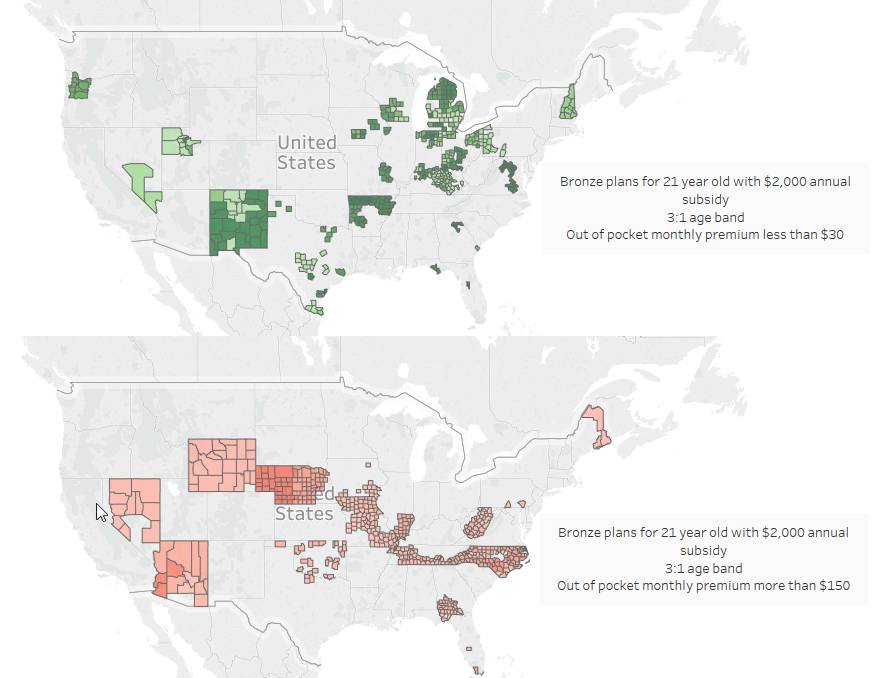 High cost counties with a flat age based credit will see young people face significant out of pocket monthly premium expenses if they maintain continual enrollment.
A 21 year old is highly unlikely to need much care over the course of a year so most healthy 21 year olds will leave the market. They pay no penalty at the time of their decision to leave the market. And they will make the same decision the following year assuming no new information about their health status arises. Now a 22 year old can jump into the market with a 30% penalty which they will only pay if they know that they are going to be expensive in the following year. The ACA Exchanges average about 34% enrollment under age 35. This system will dramatically reduce enrollment as a number and as a percentage of enrolled for Under 35. The composition of the young enrollment will also be significantly sicker in high premium counties.
On the other hand, moderately expensive but still profitable 60 year olds know that their uncertainty zone for future costs are higher. They could have a year that looks a lot like the current year or they could have a catastrophic year. The odds of a catastrophic year are much higher for a 60 year old than a 21 year old. Further more the penalty for being unenrolled and then enrolling in the future period is much larger. For somewhat expensive but profitable members, the 30% penalty is much more stringent than the current $650 or 2.5% of income penalty. At the same time, the really healthy members who have low utilization at age 60 will drop coverage as the relative costs of the 30% one time late enrollment penalty is less than the cost of premiums for the current year.
Very low cost enrollees will flee unless there is a minimal cost plan out there.  The risk pools will become very old and very sick very quickly.  That is how Molina is modeling their future.