Buzzfeed had a "funniest pictures on the internet" post yesterday, and while several were laugh-out-loud funny (including a gross photo of a dog that puked at the exact moment its owner snapped a selfie), this one struck me as particularly hilarious: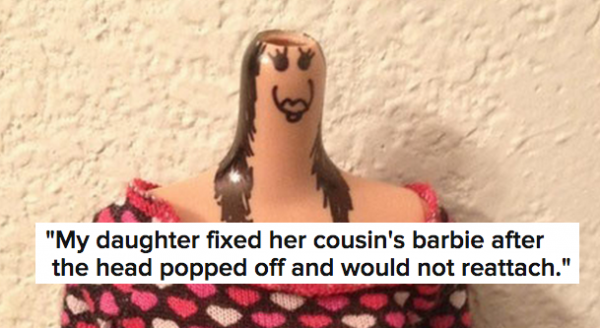 Gotta admit it's an elegant solution to the problem of the lost Barbie head!
Got any funny stuff to share? I could use some laughs, to be honest. It's shaping up to be a crappy weekend. I have to work because I received a jury summons and must appear at the county courthouse at 8:00 AM on Monday, so my schedule will be FUBAR for the rest of the week if I don't get Monday's stuff done this weekend.
I'll be completely screwed if I'm selected as a juror. I'm self-employed, so I don't get PTO for jury duty. And guess what the county reimbursement rate is? The princely sum of $15! For the entire day!
Chances are good I'll be excused rather than seated on a jury since I know at least one person from all of the big law firms in town, scads of nurses and doctors, and every lesbian cop in town. These connections have saved me from empanelment every time I've been summoned in the past, so hopefully my luck holds.
Anyhoo. Open thread!