It's impossible to keep up with the avalanche of insanity tumbling down Mount Trump, but two things jumped out at me while I was catching up on the news this morning after a short hiatus. The first is that Trump undermined Spicer's attempt to walk back the bogus "wiretap" accusation.
Spicer had the unenviable task of convincing a skeptical public that the words Trump used in his insane tweets had an entirely different meaning than what English speakers recognize as the definitions of the terms. He said when Trump used the word "wiretap" in quotation marks, he meant surveillance broadly and that when he said "Obama," he meant the entire Obama administration. Presumably, we're also to conclude that when Trump tweeted "bad (or sick) guy," he meant "bad (or sick) administration."
It's ridiculous, of course, but Spicer was dispatched to make that argument because otherwise, the fact that a sitting president just called his vastly more popular predecessor a felon with no proof at all was just hanging out there. But then Trump had to go and undermine Spicer's work last night during an interview with smirking fraud Tucker Carlson: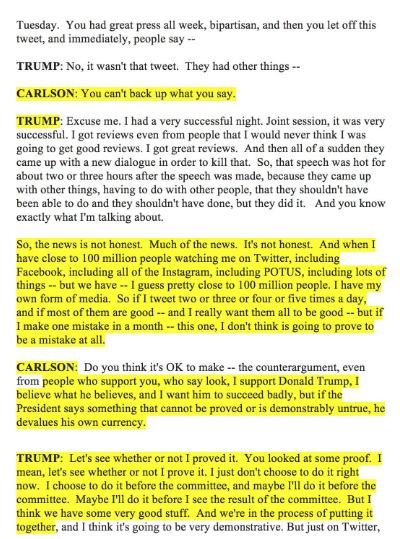 I'm zeroing in on the claim that Trump supposedly has evidence that will validate his wild accusations (bold prediction: he doesn't), but the whole exchange excerpted by @BraddJaffy on Twitter is worth reading because it's just so…nuts. According to Trump, it wasn't his absurd accusation that derailed the positive press he was receiving from his crappy speech to congress; it was the machinations of media outlets that are out to get him. According to Trump, he didn't get the nutso "wiretap" notion from crackpots on talk radio but from the NYT and WaPo. Crazeballs.
The second thing that jumped out at me was what Trump said yesterday about the Muslim ban. As we know, the courts shot down Muslim ban #1, and now they've shot down Muslim ban #2, citing Trump's own bigoted rhetoric on the campaign trail as evidence that, yep, it's a Muslim ban. Here's what Trump said about that in Tennessee yesterday:
After a federal judge in Hawaii put on hold President Donald Trump's revised executive order barring travel from a list of predominantly Muslim countries, Trump complained at a rally in Nashville, Tennessee, that he did not want the "watered-down" version of the order.

"Remember this, I wasn't thrilled that the lawyers all said, 'Oh, let's tailor it.' This is a watered-down version of the first one," he told the crowd. "This is a watered down version, and let me tell you something. I think we ought to go back to the first one and go all the way, which is what I wanted to do in the first place."
So, he's going to keep punching himself in the face on the Muslim ban — and making it harder for the order to pass muster in future court rulings with dumb comments like the above — and he's going to keep bullshitting about the "wiretap" issue, even though he beclowns himself with every utterance on the topic. Okay then.