I used to have a nice, sane Democrat representing me in Congress, but earlier this year, district lines were redrawn, and we ended up with wingnut knob Vern Buchanan.
He had a town hall today. I was there. So were thousands of others. Buchanan had to switch to a larger venue due to the avalanche of RSVPs.
Here's the line to get in: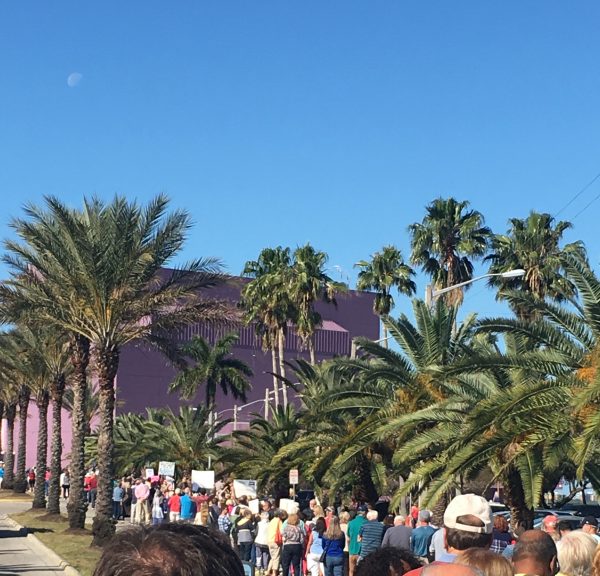 Here's a truly deranged asshole who was waving a Trump flag and screaming at the crowd about John Podesta being a "Satanic pedophile."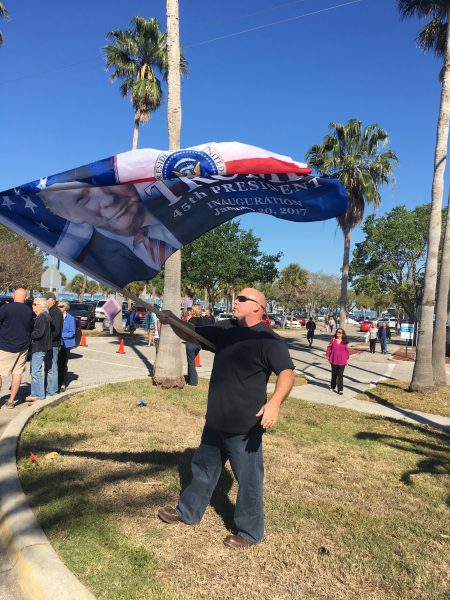 Trumpcare would eliminate coverage for services that man desperately needs, which is one reason I oppose it!
The town hall was in Sarasota, which is both artsy and thirsty: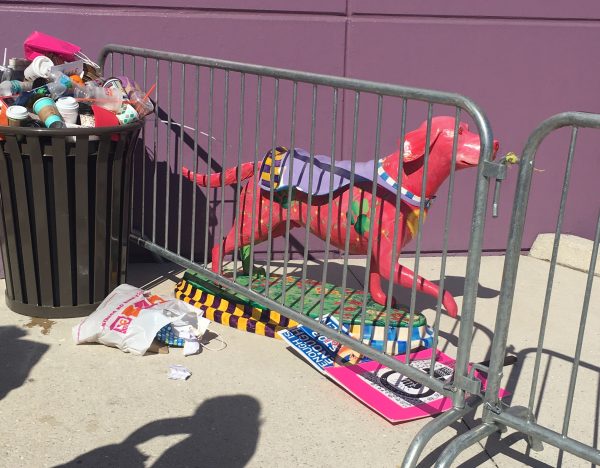 We couldn't bring signs in, a restriction with which liberals complied, but Trumpsters snuck campaign yard signs in (sans sticks), probably rolled up in their moth-eaten skivvies.
I'd say the crowd was 80/20 anti-/pro-Trump. The ratio wasn't lost on the normally very pro-Trump Buchanan, who distanced and hedged in response to every question. He was booed often, and the loudest and most sustained ovation was in response to a citizen who told Buchanan his duty was to impeach Trump because he's an unfit, lying nutcase.
But the Trumpenproletariat were represented too. One particularly annoying specimen sat behind me and shrieked "UNBORN BAY-BEEEES!" every time healthcare came up, until even fellow Trumpsters told her to shaddup.
Anyway, kudos to Buchanan for showing up, unlike gutless 'Lil Marco. Buchanan is a dissembling wingnut jackass, but he's not a complete coward.
I came away from the town hall heartened by the energy and passion of the anti-Trump forces — in a pretty conservative district. We're still showing up, even on a beautiful day.
I also came away with even more contempt for Trump fans, who squandered their questions to imply opponents are Soros-funded outside agitators and who are actually still screaming "Benghazi" and "Lock her up" even now. They are angry and demented people, at least the ones who show up to events in MAGA hats. In other words, they are who we thought they were.
And in the parking lot traffic jam that followed the event, I couldn't help but notice that it was the MAGAts who selfishly refused to allow people to merge, thus slowing the process of egress for all. Which is a pretty good metaphor for their function as citizen-millstones of this benighted republic. The end.