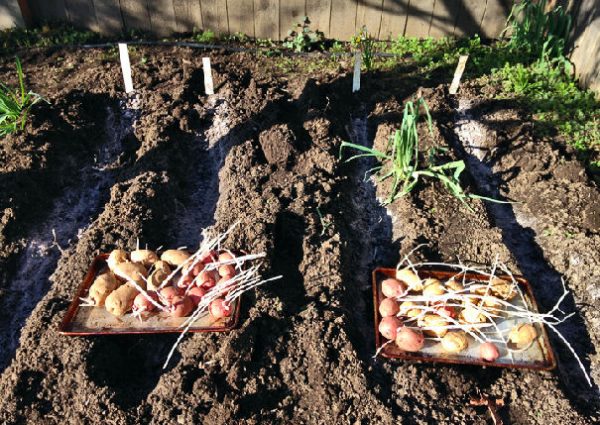 Double header this week, because our Garden Correspondents are the best, and some of them live on the left coast where the weather has moved beyond snow/slush season.
At the top, from commentor Marvel:
We had another sunny day today so we fussed over an otherwise-uncultivated area out back in preparation for the annual ceremonial/sacrificial internment of our St. Paddy's Day Spuds. We'll plant a well-tended bed of potatoes for eating & storage some time in May, but lore has it that one must show one's faith in the coming growing season by planting potatoes on the Irish holiday. Since each previous years' crop of storage taters look mighy freakazoid 'round about mid-March, this activity works out well for us.
***********
We finally have warm weather and plenty of sunshine after many winter rainstorms and "atmospheric river" events that brought us record rainfall this season. The drought is finally over, at least for the vast majority of the state.

Here are some wildflowers to brighten your Sunday.

Attached are 4 photos from March 11-13, 2017, either on our property or our neighbor's property. The first pic [above] is of a group of popcorn flowers.

The second pic is a group of foothill poppies.

The third pic is a close-up of the foothill poppies.

The fourth pic is a group of blue dicks.
***********
Also a mid-March tradition, the Boston Flower Show, considerably reduced since its BHS heyday, but still a good way to get into the spirit of another year's yard-tending. Nothing like walking onto the trade-show-arena floor and being hit with a blast of warm green humidity and the smell of damp mulch! We're hoping to get there Wednesday evening, weather and the Spousal Unit's work schedule permitting.
What's going on in your gardens (planning) this week?