Oscar Health Insurance is still an enigma to me. I don't understand their business model. They released their financials a couple of weeks ago and this is the first time I've been able to block out enough time to think through them. I am just using their New York state financials as that is their most mature market with most of their membership.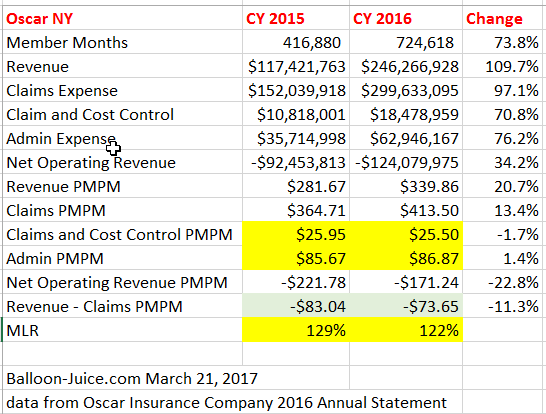 The first take-away is that they are still losing a boat load of money.  Everything else flows through there.  So let's look at it below the fold.
Enrollment is up and revenue is up.  Revenue increased faster than the cost drivers on both an absolute and per member per month (PMPM) basis.  That is the good news.  There is a lot of bad news in the financials.
The MLR is still atrocious.  On the individual market, the MLR has to be at least 80%.  Good insurers that make money will have an MLR between 80% and 90%.  Oscar is still significantly above 100%.  Their strategy to get the MLR under control is a shift in networks to a low cost narrow network (which is what everyone does anyways so how are they different) and another 20% increase in premiums will probably get the MLR to 100% assuming no unusual catastrophic events.  That is part of the progress towards profitability.
However closing a $73 PMPM gap is a painful process.  $70 PMPM total loss was enough to set United Healthcare's hair on fire.  I remember sitting in on long, painful meetings that gave me way too much working as my former employer was trying to get a $5 PMPM change in financial outcomes.
But my issue is not the claims expenses as those look to be most solvable.  It is the back end administrative costs.  The PMPM has not moved at all.  Efficient firms don't have an administrative (general and claims payment/cost control) ratio of 35% of revenue nor do they have a total admin/claims PMPM north of $110.  Admin should benefit from scale.   Medical directors, marketing strategists, app developers all either don't need to scale or scale very slowly with membership.  Customer service reps, care management team members and billing clerks scale roughly proportional to membership.  All else being equal, we should have expected the general admin PMPM to go down.
Efficient insurers would have seen their admin, claims and cost control expenses converge to $30 to $40 PMPM given the current revenue base of Oscar.  The counter-argument is that Oscar is still in a build-out phase and they are building up their claims system, they are building out their investments and while they have to expense those costs as operating costs, they are really capital costs where initial expenses should lead to massive future year savings and efficiencies. I could see that argument with a squint but that is a lot of PMPM to cut through either massive growth as the slow to scale functions stay constant as the denominator increases or lots of lay-offs or pay-cuts or getting rid of the consultants to move work in-house happens.
One of the interesting to me shifts is the composition of their member market. They are going towards a mostly off-Exchange model where subsidies are not available and people are not as price sensitive. This could be a viable model where customer service matters more than price and feeling hip and cool and rebellious against staid insurance companies could be a selling point.  But this is a limited area of hope for Oscar as they have also indicated that they want to go into the small group market.  Unless they can get their administrative expenses under control, they are just another narrow network product with presumably good customer service and very high premiums.  That is a tough sell.
I really still can not figure out what Oscar is doing.  In a market where they have had enough time to get over the start-up hump, they are still losing boatloads of money on both claims expenses while also having high administrative costs   I don't think the AHCA will save them.  It will help them a bit as the age based subsidies for young adults helps their current target market of off-Exchange/non-subsidized younger buyers.  But their admin costs are still out of control and their expenses are still significant.