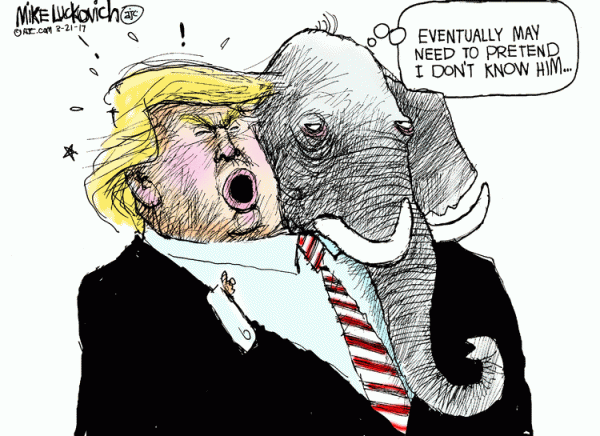 Politico, "Trump's penchant for vengeance casts shadow on health care vote":
Donald Trump didn't have to issue his threat seriously — "I'm gonna come after you," he said jokingly Tuesday to a ringleader of House GOP hard-liners opposing his health care bill — to be taken seriously by the 200 Republicans gathered in the Capitol basement.

For a president with a penchant for vengeance — who named "an eye for an eye" as his favorite biblical passage, who banned media outlets from campaign events when he didn't approve of their coverage, who after the election ousted a GOP state chairman whom he viewed as disloyal, who just last week reminded a GOP governor who hadn't endorsed him that "I never forget" — the roll-call vote on the Republican health care plan, expected Thursday, will be the first accounting of who's with him and who's against him on Capitol Hill…
Greg Sargent, at the Washington Post — "Trump's lies are failing him, and it is making him deeply frustrated":
The events of this week are revealing with a new level of clarity that President Trump and the White House have ventured far beyond unconventional levels of dishonesty. Instead, they are revealing on their part something more remarkable and challenging to our system: a kind of deep rot of bad faith — a profound contempt for democratic process and the possibility of agreement on shared reality — that is wildly beyond anything in recent memory and strains the limits of our political vocabulary.

The precipitating moment is the clash between the White House and the FBI over the ongoing investigation of possible Russia-Trump campaign collusion, and in this context, the New York Times has some remarkable new reporting on Trump's mental state and the reaction to it of the people around him..

… Trump continues to vaguely believe that what he tweeted will somehow be validated later, at least in some form. But at the same time, Trump himself is growing aware that his nonstop lies — or delusions, or self-deception, or whatever you want to call all of it — are failing him. And he's frustrated by it. This is coming to us according to people close to Trump…
That NYTimes story, by Glenn Thrush and Maggie Haberman:
President Trump is a man seriously susceptible to snagging himself in the nettles of obsession. In the last three weeks, no compulsion has so consumed his psyche, and his Twitter account, as the deeply held and shallowly sourced belief that President Barack Obama tapped his phones…

… [A]ides say that Mr. Trump, who often says, "I'm, like, a really smart person" in public, is driven by a need to prove his legitimacy as president to the many critics who deem him an unworthy victor forever undercut by Hillary Clinton's three-million-vote win in the popular vote…

Second, fighting back — in this case, against Mr. Obama, the F.B.I. director and members of his own party who say his claim about phone taps is false — is an important part of the president's self-image. The two most influential role models in Mr. Trump's youth were men who preached the twin philosophies of relentless self-promotion and the waging of total war against anyone perceived as a threat.

Mr. Trump, according to one longtime adviser, is perpetually playing a soundtrack in his head consisting of advice from his father, Fred, a hard-driving real estate developer who laid the weight of the family's success on his son's shoulders. Mr. Trump's other mentor was the caustic and conniving McCarthy-era lawyer Roy Cohn, who counseled Mr. Trump never to give in or concede error…

Toughness, more than any other attribute, is what Mr. Trump has sought to project during his short and successful political career — and he believes his behavior makes him look tougher, no matter what the press thinks.

As a presidential candidate, he wanted to look dour, and vetoed any campaign imagery that so much as hinted at weakness, aides said. Which is why every self-selected snapshot — down to the squinty-eyed scowl attached to his Twitter account — features a tough-guy sourpuss. "Like Churchill," is what Mr. Trump would tell staffers when asked what look he was going for…

Finally, Mr. Trump hasn't let up because no one can stop him.

Within the White House, aides describe a nearly paralytic inability to tell Mr. Trump that he has erred or gone too far on Twitter…
Once again: This isn't an American presidency, it's a tinpot kakistocracy.
THANKS AGAIN FOR BREAKING OUR COUNTRY, REPUBS!