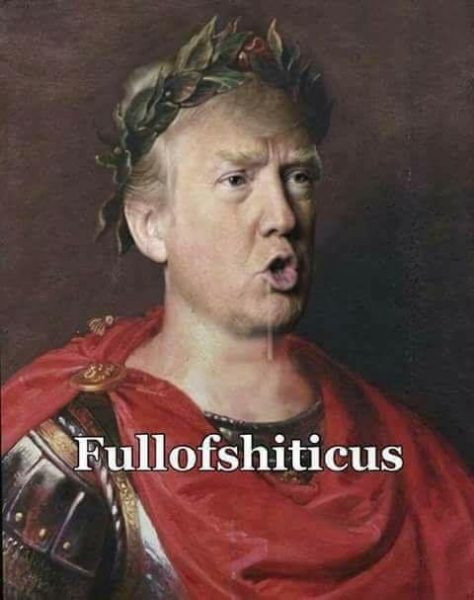 Well, well, well:
Almost two weeks after President Donald Trump's tweets accusing his predecessor of wiretapping Trump Tower, the Republican head of the House Intelligence Committee tried to offer some support by saying that the president's team was caught up in a U.S. surveillance net.

Representative Devin Nunes said Wednesday that the intelligence community collected multiple conversations involving members of Trump's transition team during legal surveillance of foreign targets after he won election last year. After Nunes went to the White House to brief Trump, the president told reporters "I somewhat do" feel vindicated by the latest development.

The committee's top Democrat, Adam Schiff of California, said Nunes's decision to go to Trump before informing other members of the panel "casts quite a profound cloud" over whether the committee can conduct a proper investigation.

Nunes said he was "alarmed" to discover that the identities of Trump aides were revealed in intelligence community documents. "Details with little or no apparent foreign intelligence value were widely disseminated in an intelligence community report," he said, adding that he didn't know if Trump's "own communications were intercepted."
First off, let's dispense with the nonsense that Trump should feel vindicated. He claimed he was wiretapped, he wasn't. This was routine surveillance on known bad actors and his team got caught up in it because… they were consorting with known bad actors. It's the difference between me having my microwave take pictures of me in my underwear screaming "FASTER" while I nuke a hotpocket and me being accidentally picked up on a recording of drug dealers when I went to buy crack. Instead of being validated that he was in fact being wiretapped, a more clever man would wonder if maybe he should spend so much time hanging out with crack dealers. Donald Trump is not a clever man.
Second, Rep. Adam Schiff is about to fucking explode:
Today, Chairman Nunes shared information with WH still withheld from our committee. He cannot conduct a credible investigation this way. pic.twitter.com/wwrp7H7JWC

— Adam Schiff (@RepAdamSchiff) March 22, 2017
I'd like to know what kind of shit Bannon has on Devin Nunes, because at this point it has to be in the "live boy" territory.
Meanwhile, addled old warmonger Walnuts almost killed a man rushing to the cameras to throw in his two fucking cents, and while it contains a bit of the pox on both houses bullshit, what he is calling for would be HIGHLY entertaining:
Congress no longer has the credibility to independently tackle a probe of Russian meddling in the 2016 presidential election and President Trump and his associates' ties to Moscow, Sen. John McCain (R-Ariz.) said Wednesday.

"It's a bizarre situation, and what I think, the reason why I'm calling for this select committee or a special committee, is I think that this back-and-forth and what the American people have found out so far that no longer does the Congress have credibility to handle this alone," McCain told MSNBC's Greta Van Susteren. "And I don't say that lightly."

McCain's comments come amid an increasingly bitter feud that erupted between members of the House Intelligence Committee earlier Wednesday, after the panel's chairman Rep. Devin Nunes (R-Calif.) claimed that he had seen evidence that the U.S. intelligence community incidentally surveilled members of Trump's transition team.

The inadvertent surveillance, Nunes said, was not tied to ongoing Russia investigation.

The committee's top Democrat Rep. Adam Schiff (Calif.) fired back, blasting Nunes for routing the committee before briefing Trump himself on the apparent findings and saying that the move "casts quite a profound cloud" over the panel's investigation.
And why the fuck not? We spent ten days investigating Bill Clinton's Christmas Card list, who knows how many hundreds of millions on other sham investigations into Bill and Hillary, why not spend a couple million to lift up Putin's kilt and see if we find Trump down there on his knees?