Glad to see that ACA got a temporary reprieve- now we need to be make sure they don't kill it with 1000 cuts.
At any rate, I picked up the car today from the shop, and after a sacrifice of blood and money to the Subaru gods, my car is running like a champion. Thought I would share part of my conversation with the dealership guy to demonstrate why they hate me but love my money:
Subaru guy: Ok. You're all ready to go. Here's what we did. We-

Me: I'm not going to understand this.

Subaru guy: -something something sensor something something bushings something something injector something something next oil change something something come back in 30k miles.

Me: What about the blinking tire pressure gauge thing?

Subaru guy: We checked the TPS and it is ok and your tires are fine and inflated ok.

Me: What if it starts blinking again?

Subaru guy: Just ignore it. It just means your tires might need some air or the battery might be dying on it.

Me: They MIGHT need some air? Isn't that precisely the same amount of information I had in my Subaru that DIDN'T have a TPS? What's the point of that thing then?

Subaru guy: *Pauses* If the light comes on and stays on then get your tires checked.

Me: You just told me to ignore the light.

Subaru guy: Only if it is just blinking. If it comes on and stays on you have a problem.

Me: How can we be sure? We already have no idea what it means when it is blinking, why should we trust it if it comes on and stays on?

Subaru guy: *Pauses* I've never known that light to come on and stay on unless there is a problem.

Me: Ok, whatever. What about the check engine light?

Subaru guy: It's off.

Me: It was off when I came here. Did you fix whatever it was that was making it go on?

Subaru guy: We think so. But if it comes back on come back and we will fix it.

Me: Isn't that why I am here right now?

Subaru guy: *Pauses*

Me (sensing there is hate building in his heart): You know what, never mind. How much?
At any rate, the car ran like a dream, and I saw a noticeable increase in gas mileage, and apparently the bushings have something to do with the way it rides, because it was so much better and really fun to drive. I took advantage of the beautiful weather and headed to Pittsburgh to pick up an antique armoire we found on Craigslist for $100 bucks, and man is it a beauty. This thing is worth a helluva lot more.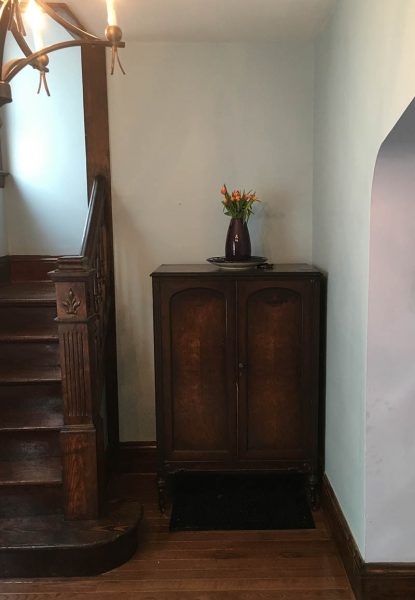 I put it right in the foyer as soon as you walk in the front door. It's off center right now because I need to get something for the legs so they don't fall through the cold air intake, but it looks perfect there. It's cedar lined, and has drawers on the right side and a space to hang jackets and put shoes on the left side.
My house is really starting to shape up. Now I need to figure out what to hang above it the armoire.