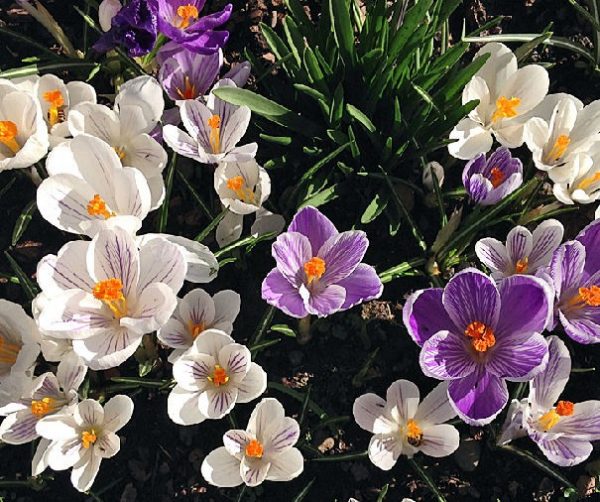 Faithful gardening commentor Marvel:
Deep Spring? Okay. I kid. Most days, it ain't any kind of Spring out there. I'm grateful that our Winters are mild, here in the Pacific Northwest…but DANG, they do seem to last a long time. This year especially.

Lately our weeks of showery days have been punctuated with the odd sunny one (and we're all miles of smiles, believe me — positively giddy). Everything's coming in late – the flowers, the Winter veggies (our asparagus is at leat two weeks late).

Last week we finally (FINALLY!) had a warm sunny day and BOY were the crocuses (croci?) happy to dry out & turn their sweet faces to the sun.

The few sunny times have been short-lived, so between these magical days, we're putting our indoor time to good use: plotting the what/where/whens for the raised beds & green house. Today? SEED TAPES!




We make seed tapes for veggies whose seeds are dinky & a pain in the butt to manage/plant (and since the little things end up growing in orderly rows, [1] you can tell who's a weed and who's not during the seedlings early days and [2] ya don't have to go back & thin out all the bunched-up-together extra plants that result from scattering seeds).

How? Use a marker to put well-spaced dots on single ply TP or thin paper towels (or use double ply that's been de-layered); water down some white glue; use a toothpick to put a dab o' glue on the spots & immediately stick a seed on the glob of glue; let em dry; plant 'em (i.e., lay the TP/towel strips out on the ground/bed then cover the whole lot with a bit of soil). Add water + sun + time. Works like a charm. It's a fun rainy-day activity PLUS in a couple of months, today's arts-n-crafts will be magically transformed into oodles of delish beets & carrots. Seed tapes: YAY.
************
Despite my half-hearted never again declarations last fall — it was a terrible year here in New England for tomatoes, even the professional farm stands were pitifully understocked — I broke down and ordered another batch of mail-order tomato plants. Cut down the number of plants (varieties) by about 30%, which would still be too many tomatoes if (a) I expected to get more than a handful from any given plant in the rootpouches aligned on my asphalt 'garden', or (b) there *were* such a thing as too many home-grown tomatoes.
What's going on in your garden (planning) this week?