Remember faithful reader cope, who occasionally shares lovely nature photos? Here's a photo he took of some distressed flowers: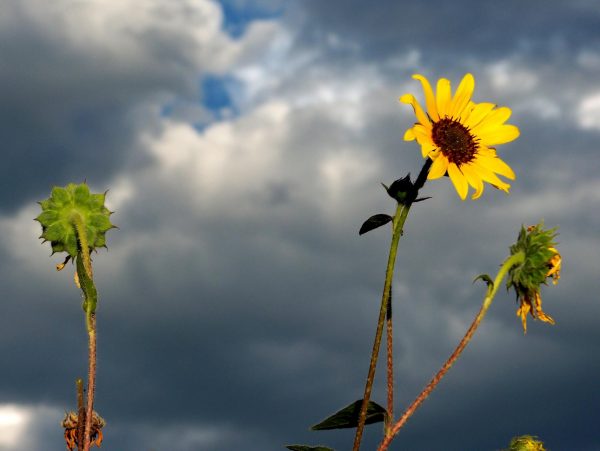 And also a story to go along with them, shared with cope's permission (and with just a few alterations to protect his privacy):
Four weeks ago tonight, at about 9:15 (past bedtime here in copeville), we received a phone call from the Mayo Clinic that a donor liver had been found for my wife. She had been on Mayo's liver donor list since December. Needless to say, within 30 minutes we were on our way. At about 7:45 the next morning, she was wheeled away for prep and transplant surgery and by 3:00 in the afternoon, she was back in her room.

After about 10 days at Mayo, she was transferred to [another hospital] for physical and occupational therapy and for treatment of fluid on her lungs. Throughout this time, my sister-in-law and I made a tag-team effort of being with her at all time, sleeping in her hospital room during the rare times when sleep was to be had. I am still working as a high school science teacher (but only 45 days away from retirement!) so I had weekend duty while SIL had the week days. Happily, spring break intervened… You can appreciate our utter and total joy at being told just 3 weeks and one day after surgery that we could come back to our house and our dogs. My wife is doing extremely well (we hit the local Michael's for some retail therapy this afternoon) and this is the closest to "normal" our lives have been for months.

The fact that my wife even has health insurance, much less a sufficiently robust policy to absorb almost all of the costs of such a major procedure is entirely due to the Affordable Care Act. To be sure, since November's election, we had not been particularly confident that she would still have coverage at the time a donor might be found (we expected to wait for months and months). Happily for us, we need not sweat the big stuff any more.

My wife worked for almost 35 years as an RN doing geriatrics, AIDS, cancer, burns, labor and delivery and finally, in her last chapter as a nurse, home health care. She has been universally loved by her patients and co-workers as she is one of those giving and loving and compassionate and empathetic people who fortunately walk this earth. She is even now loved by the nurses and techs who have been tending her for the last few weeks, many of whom she brings small gifts to when we make our frequent returns to Mayo. To have had to watch her waste away as her deteriorating liver tried (and failed) to kill her was a miserable, debilitating, depressing experience for all of us who love her. Our relief at having broken on through to the other side of these emotions cannot be expressed in words.

I chose this picture of a disheveled, sunlit flower against a background of dark, looming clouds as a pretty good visual metaphor for what our family experienced these past few months: the struggle to maintain a positive, sunny disposition in a dire and ominous situation.

See, sometimes, good things do happen.
Best jackal wishes to cope's wife as she recovers. Her story is a great reminder about the stakes in Trump's war on the ACA. The shitgibbon was dealt a defeat last week, but he and the other ghouls in the GOP will be back. For all its faults, the ACA does represent a huge top-down transfer of wealth, and Republicans will fight an insult like that to the last breath. We need to remain vigilant.
Open thread!