On the Road is a weekday feature spotlighting reader photo submissions.
From the exotic to the familiar, whether you're traveling or in your own backyard, we would love to see the world through your eyes.
Good Morning All,
This weekday feature is for Balloon Juicers who are on the road, travelling, etc. and wish to share notes, links, pictures, stories, etc. from their escapades. As the US mainland begins the end of the Earth day as we measure it, many of us rise to read about our friends and their transient locales.
So, please, speak up and share some of your adventures, observations, and sights as you explore, no matter where you are. By concentrating travel updates here, it's easier for all to keep up-to-date on the adventures of our fellow Commentariat. And it makes finding some travel tips or ideas from 6 months ago so much easier to find…
Have at 'em, and have a safe day of travels!
Should you have any pictures (tasteful, relevant, etc….) you can email them to [email protected] or just use this nifty link to start an email: Start an Email to send a Picture to Post on Balloon Juice
Sorry for the lack of pictures yesterday, I was away from the house and unable to easily publish from email. Here are a slew from one commenter, with a promise of a s$%@-ton for Friday! Have a great day, travel safely, and do send in some pictures of your world!
From  Le Comte de Monte Cristo fka Edmund Dantes:
Where: Sunset Key, west of Mallory Square – this was part one of the surprise trip for the kids that culminated in a week long sail to the Bahamas. This was from the deck of our villa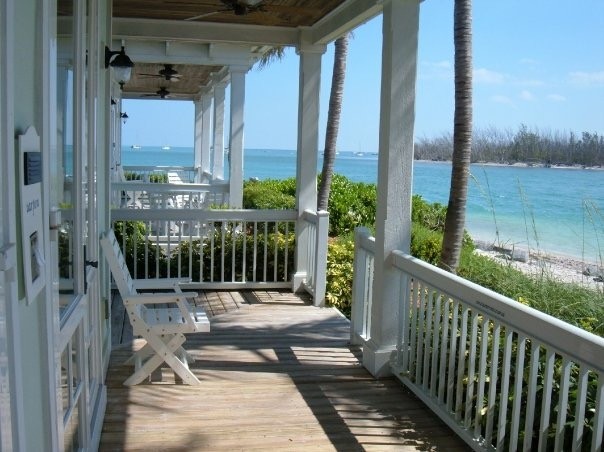 When – the vault, July 2006
Where – The Fishpot, Barbados
This was a lovely trip with my family. This was a sunset view from the open window of a 17th century British fort in Speightstown (IIRC) on the western side of the island. This was a restaurant where you ate fish which had been swimming where they're supposed to be within 2 or 3 hours of eating them. I was shooting 35 mm film (probably 100 or 200 speed) from a Minolta X-370.
Wow.
When – July 2006
Where – Sandy Lane, Barbados
This was a routine Sunday on the beach in Barbados, within 200 yards of where Tiger Woods got married. Totally natural and relaxed
When – August 2007, the vaul
Where – 10 nautical miles off David, Panama
Story – We had taken the family in another sailing trip via Windjammer, running along the western coast of  Costa Rica.  We had maybe 80 pax and under 20 crew, so a limited number. We were a little into the trip when we spotted these fishermen. They had jury rigged a distress flag, were way too far out, and their motor had crapped out nearly a week before. Our Venezuelan captain and first officer were extremely cautious on approach (the fishermen had no working radios), and feared piracy given our remote location – they asked that all men man the rails in a very nice way.  It turned out that they'd endured no fewer than 3 storms and were in a bad way. I took other closer photos as we tied them in; as a matter of respect I have held those back. Due to Panamanian and Costa Rican maritime and immigration restrictions, they could not be allowed to board even though we were tied off while we awaited the Panamanian coast guard, but they did have some lovely fish to hand to us in exchange for beer, water and spirits. There were a lot of tears that day.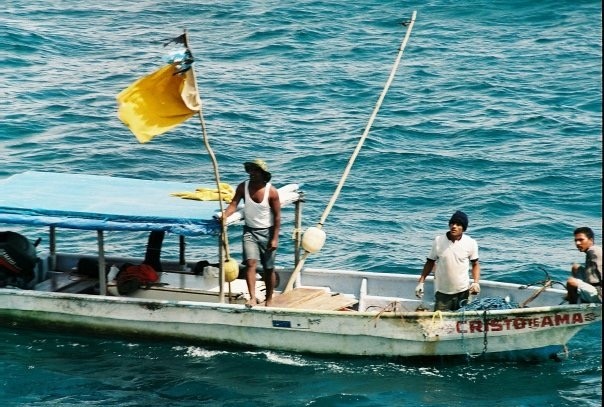 When: June 2006 Vault
Where Miami, Windhammer, Leaving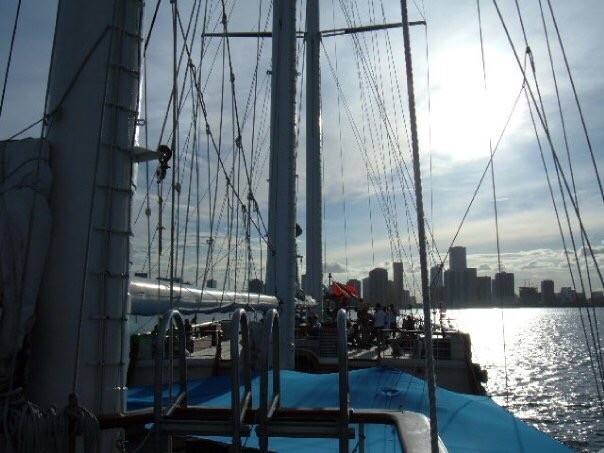 When – 12/2008
Where- Ik Kil Cenote, Yucatán
We had taken a trip to Isla Mujeres, MX for Christmas as a replacement for Christmas expense. Dad screwed it up because he hates going anywhere, mom was a bit of a drag but it was otherwise full of great experiences as trips go. We took a day to go to Chichen Itza and Valladolid, Ik Kil cenote (a kind of warm sinkhole, something I routinely scubadive in) is a nearly mandatory stop. Water is dark with VERY large fish. I jumped off the high platform.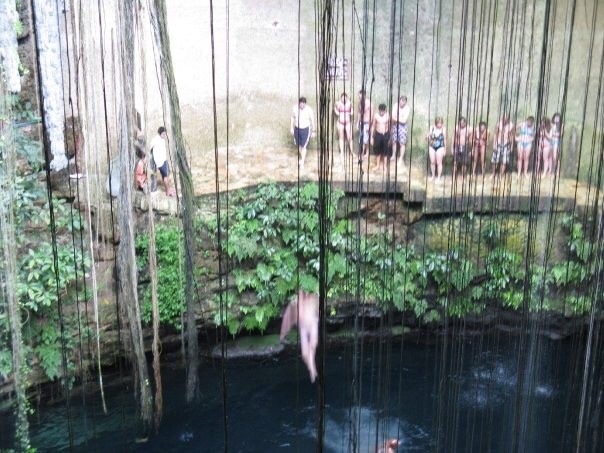 Where- Barbados
When – July 2007
My girls, giggling on a bluff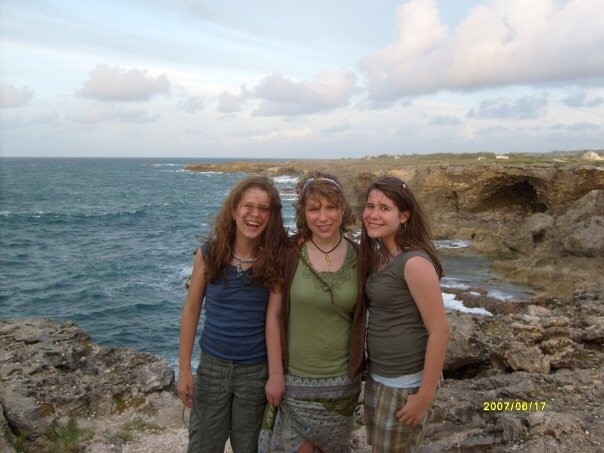 When – June 2009, Vault
Where – North of Isla Mujeres, Q.Roo, MX.
Swimming with whale sharks at an upwelling at the Continental Shelf (lots of tasty plankton). I'm the human body in the background; the shark is manifested by the tail in the center to lower tight of the photo.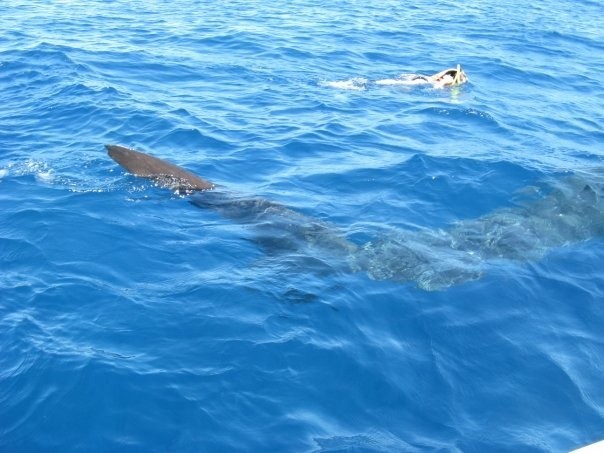 When – April 2006 vault
Where – Chacchoben ruins (inland from Mahahual), Yucatán.
This was nearly at the border to Belize. Recent discovery, but really fun and we could climb it.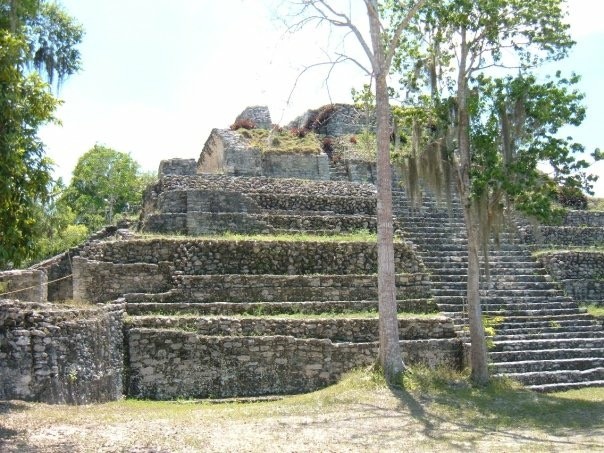 Wow – thank you so much! I can't wait to see what is in store for Friday!