Dear all,
To repeat the update below:  We're set for Asgard in Cambridge tonight. The reservation is under my name.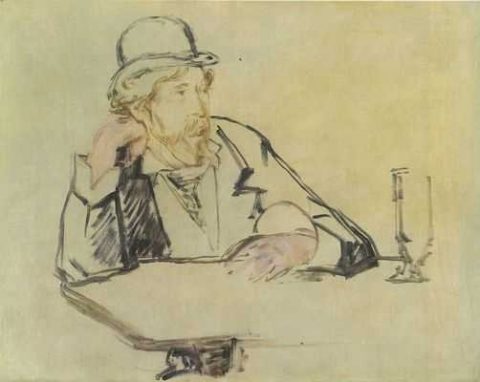 Time — 6 until the die-hards wander off into the snow/sleet/rain bouquet with which we aim to greet distinguished visitors.
Address:  350 Massachusetts Avenue (corner of Mass. Ave and Sidney St.) Phone no: 617-577-9100.
By the Red Line T:  Central Sq. stop.  The Asgard is on the south side of Mass Ave. about 350 yards east of the stop.  That is:  its on the side closer to the Charles River, heading back towards Boston from where one gets off the T.
Parking:  There are several municipal lots, most on Bishop Allen St., which parallels Mass. Ave one block to the north, including the closest public lot to the Asgard, just off Columbia St.  There's more parking on Green Street, also parallel to Mass Ave., one block south.
I think that's it.
Looking forward to seeing everyone.
Image: Édouard Manet, George Moore at the Café, 1878/9