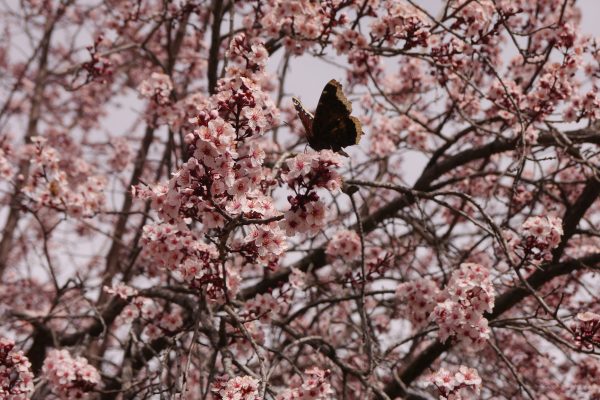 First butterfly this spring in my awesome plum tree
Hello! Sorry we were a bit short on threads in March. My work load almost doubled, so I had some frantic rearranging to do in order to accommodate it. I think we'll be back on track for twice a month now as long as there is interest.
I am stockpiling some stories from our published writer's on their experiences to share the next few posts. Thanks to everyone who has emailed me. I'll give you a heads up when I'm planning on posting your wonderful experiences. Going forward, what I would love is any emails with topic suggestions and/or your stories.
Today I'm sharing John F. Wirenius story. He's successfully published his book, Phineas at Bay (found here):
So I self-published a novel in 2014. it's called Phineas at Bay through CreateSpace. It's a sequel to Anthony Trollope's six Palliser novels, set in England  in the late 19th Century.

On the whole, I found it to be a very satisfying experience.  I had a good friend, with a Masters in English, who was willing to edit the book, and had another friend design the cover. (My first friend, who appointed herself my "Domineditrix" was kind enough not to change, if I would do the same for her novel; my second charged me a reasonable but not nugatory fee.)  So I went to CreateSpace for internal formatting and layout and production.  I also used their book description promotional services to come up with the jacket description and author bio. 

The paperback book came out as an elegant, handsome volume that was what I hoped it would be, both inside and outside.  Good quality paper, the bottle green, pocked leather of the cover design read crisply, and the print inside was stylish and appropriately retro for my 1890's political drama.  My one mistake is that I burned a lot of money on edits after the initial proofs.  (With CreateSpace, your first round of edits is free, later edits rack up fast.)  I mean a lot of money. That's not really on Create Space; I decided to switch from American to UK spelling after an English reader sent a late analysis, mostly positive, but slating the use of American spelling.  That blew nearly $1,000.  In retrospect, I had no need to do that, and could have saved that money.

The book was well received though Amazon reviews have been slow in piling up (6 more, and I turn up as a suggestion to other people's books.  Still, the Trollope Society (USA) invited me to speak at their annual dinner, in Trollope's bicentennial year, and I was featured in its journal as well as several e-zines and blogs.

Profitable?

Well, no.  Not financially, that is.  The thou I blew on orthography took a big chunk, and most of my sales have been on the Kindle, with concomitantly lower royalties as the price is lower.  Still, I didn't have to telescope  a pastiche of a Victorian novel, requiring the scope of one, into the tight confines most American publishers would have required (Phineas at Bay is in fact more than double the size of what most publishers will take for a historical novel from a first time novelist.)  I got to write the book I wanted to read, and see it in print in a way that delighted me.  And it's in the black now, albeit lightly so.  If I had had a better plan to advertise or promote it, I think I'd be more profitable—but I have a day job.

So, not a rattling success, but a labor of love completed to my satisfaction, at least.

And, yes, I'm working on another.
I have several entries from folks on self-publishing, one on going through traditional publishing  and one on self-promotion with websites and blog. I would love a few more from people who have gone through traditional or small publishing houses to front page along with your book. Email me!
So let's get this started. Besides writing, what are you reading these days? What do you read when you need inspiration?
What kind of writing have you gotten done since we last got together?
Chat away!