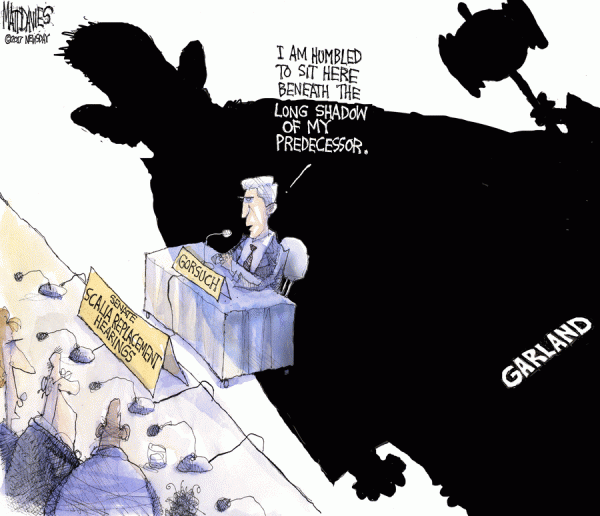 Good for the Democrats — they should keep fighting the Gorsuch charade, no matter how sad it makes the Media Village Idiots. Per the Washington Post:
Senate Democrats secured enough votes to filibuster the nomination of Judge Neil Gorsuch to the U.S. Supreme Court on Monday, increasing the likelihood that Republicans will change the rules of the U.S. Senate to ensure his confirmation later this week.

Democratic opposition to Gorsuch has been building for days, and four more senators announced on Monday that they would vote against him and support a filibuster of his nomination. That gave Democrats the requisite 41 votes to put up a roadblock and compel President Trump and Senate Republicans to either withdraw Gorsuch's nomination or change Senate procedure.

With Trump and Republicans vowing that Gorsuch will be confirmed despite any filibuster, a change in how the Senate does business — the so-called nuclear option — is expected by Friday…

The outcome of the panel's vote was never in doubt — Republicans hold a majority of seats on the committee and Gorsuch was approved on a party-line vote. But the testy hearing foreshadowed what is likely to be a combative week over the merits of President Trump's Supreme Court nominee and the way both parties have behaved during years of feuding over the makeup of the federal court system.

Sens. Dianne Feinstein (D-Calif.), Patrick J. Leahy (D-Vt.), Christopher A. Coons (D-Del.) and Mark R. Warner (D-Va.) indicated on Monday that they would oppose Gorsuch and vote against cloture — or the motion to end a filibuster that is required to hold a final up-or-down confirmation vote.

During an hours-long committee hearing, Leahy, the longest-serving member on the panel, criticized Gorsuch's answers during his marathon confirmation hearing as "excruciatingly evasive." He said that a GOP move to end filibusters of Supreme Court nominees would damage the Senate but argued that he had to vote his conscience, even if it pushes Republicans to change the rules.

"I cannot vote solely to protect an institution when the rights of hard-working Americans are at risk," he said, "because I fear that the Senate I would be defending no longer exists."…
The longer the spotlight shines on Gorsuch, the more threadbare his lying professions of absolute innocent impartiality show. The Repubs have been trying to turn the Supreme Court into their rubber stamp since at least the days of Richard 'Mediocre people are entitled to a little representation too' Nixon; if they insist on being rabid partisans, we can at least deny them the pleasure of hiding behind hypocrisy when they do.
McCain says he will vote for the rules change to confirm Gorsuch but says it's the beginning of the end of the Senate.

— Byron Tau (@ByronTau) April 3, 2017
9 steps to going nuclear — here's how it works. (Complete w/ GIFs!) via @ErinVKelly https://t.co/RaJgacb3Jc

— Paul Singer (@singernews) April 3, 2017