Wonkblog at the Washington Post has a good graphic on the typical distribution of healthcare spending in this country. It is super concentrated, and it has almost always been super-concentrated.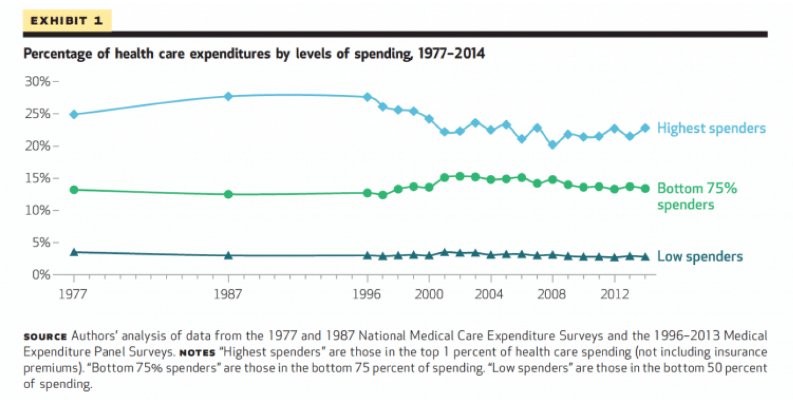 This is the key challenge for an insurance based system of health care finance. Most people don't use a lot of resources in a given year. If there is insurance, a lot of people pay in and get very little out of the system and since health care in the US is so expensive on a per unit basis, people pay in a whole lot without seeing much until they get unlucky. And people rationally will want to limit their exposure and costs as much as possible.
This is where underwriting comes in. In 2013, there were conservative argument that the individual market was functional as people could buy dirt cheap policies compared to Exchange policies:
Let me give you some examples of the policies that he is using to argue rate shock:

Arkansas: $26 per month for a $25,000 deductible 23% applicants denied. 28% uprated.

Ohio: $25,000 deductible, 19% denied, 17% uprated.
It's not hard to have a dirt cheap premium when you can underwrite out one in five people who have known high cost risk profiles. It is not hard to have dirt cheap standard rates when you can then up-charge another your most expensive third of covered lives by 25% to 200% above standard premiums. It's not hard to sell insurance to the 50% of the population that never touches the US healthcare system in any meaningful way in a given year. It's not hard to sell dirt cheap policies that don't cover maternity, mental health or high cost prescription services.
And it is not hard to get underwritten up. Below is the first page of underwriting guidelines for the old, pre-ACA market.
Here's what a pre-ACA insurance manual looks like. "Coverage at the higher rating" indicates to charge a higher premium for the condition. pic.twitter.com/aD1OtYI5QK

— Topher Spiro (@TopherSpiro) April 5, 2017
I qualify for at least two underwriting up-rates on the first page.
It is just not particularly useful from a societal perspective as costs will be paid somehow. It just shifts the distribution of costs to either individual suffering, higher costs for the sick and general subsidization. Keep this in mind. Costs will be paid, it is a question of who bears the costs.