Valued commenter Oldgold made the following observation in the morning thread:
For Trump reality is what he observes on TV. Almost nothing else matters. It is the key to understanding this bizarre and limited man.
Sounds about right to me, but I'd add this related point: There's strong evidence (i.e., every scrap of his observed behavior over the decades) that Trump is a flaming narcissist on a scale rarely seen outside tragic tales of fallen empires. So, he'll filter reality through the lens of TV and his untreated personality disorder.
The TV coverage of this routine courtesy bombing is what it always is — anchors framed by hastily contrived martial graphics somberly querying analysts about What It All Means and running film of missiles streaking through the sky on continuous loop.
I've been watching this same shit since our last dementia-addled president, Ronald Reagan. But leaving aside questions of whether this bombing was hatched to knock the Russia story off the front page, pump up Trump's flaccid poll numbers, give Trump an excuse to lift sanctions on Russia after a tough-guy display, etc., consider how the coverage must play in his diseased mind. I'm rerunning the clip Doug posted earlier because it's a perfect example:
.@FareedZakaria on Syria strikes: "I think Donald Trump became President of the United States" last night https://t.co/dLipRu6SZu

— New Day (@NewDay) April 7, 2017
As Doug observed, pundits just lose their fucking shit over anything remotely related to the military. Van Jones beclowned himself with the exact phrase Zakaria used above when Trump told the widow of the Navy SEAL killed in the botched Yemen raid that her husband was smiling down from heaven at the sustained applause generated by a shout-out in Trump's speech. War boners do seem to be distributed on a bipartisan basis.
One of the things that makes narcissism so destructive is that the sweet, sweet ego hit the afflicted receives from admiration is irresistible. Like a meth head scouring a squalid slum in search of another bump, Trump will feel compelled to return again and again to any source that alleviates his soul-annihilating insecurity with an ego boost, consequences be damned. And if the richest vein of the ego-boosting narcotic is found in bombing shit, FSM help us.
Oh, and this pencil-necked, foppish, know-nothing heir to a larcenous real estate empire — along with his equally clueless bag-and-shoe mongering wife — is supposed to be the moderating force on Twitler's megalomania: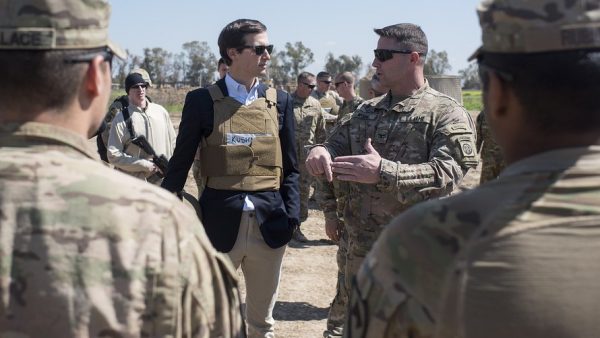 Like I said, FSM help us. Sorry to be a gloomy gus. But electing a mentally ill demagogue is going to have consequences, and I'm afraid they'll be more far-reaching than seeing Injustice Gorsuch's chiseled mug on our TVs for the next 40 years as he divines new rights for corporations from the US Constitution. If Trump gets a serious war jones, Injustice Gorsuch might be the least of our problems.