A sidelight on yesterday's Tomahawk raid on a Syrian airbase.
1:  Fifty-nine Tomahawks fired.
2: Targetting:  "The targets included air defenses, aircraft, hangars and fuel."  For good reason (IMHO) the strike avoided stored chemical weapons.  Personnel at the base were warned of the impending attack and as of now, no casualties have been reported.
3: Results: some shit got blown up. All of it can be repaired or replaced with out, it seems, significant difficulty.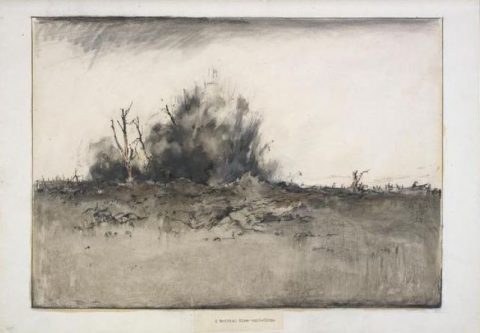 All of which is to say that this was what most kindly can be called a warning shot, and rather less so, performance art.
Which gets me to my point.  The price tag for fifty nine Tomahawk missiles runs a little bit shy of $90 million.
For scale: that's roughly 60% of the $148 million the to-be defunded National Endowment of the Arts received in 2016.
I believe Donald Trump's grant was titled, "Very Expensive Holes In Concrete."
Image: Adrian Hill, A British Mine Exploding, sometime during World War I.