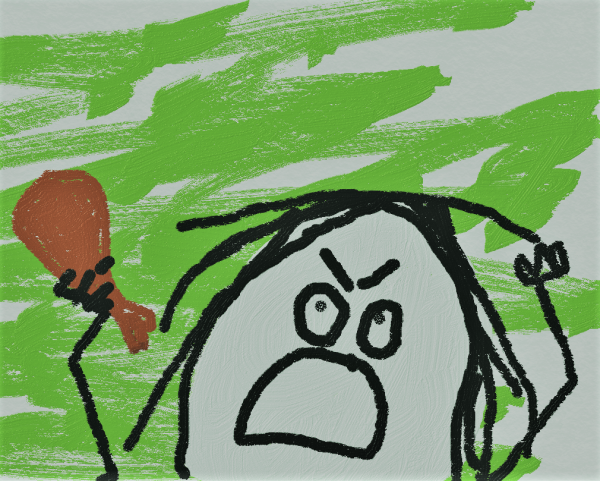 If you're depressed about the bloated orange fart cloud that has enveloped the USA for the past several months and are seeking lovely photos to take your mind off it or comforting words of hope to lift you up, keep scrolling, friend — this isn't the post for you. An angry rant lurks below the fold…
Still here? Okay. I'm not sure why, but I'm as angry and depressed this week as I've been since the night of the election, when I realized with dawning horror that yes, my countrymen really are racist, sexist and/or fucking stupid enough to elevate an embarrassing, malignant turd like Donald Motherfucking Trump to the highest office in the land, a notion that, in my naivete, I'd considered impossible until it actually happened.
Why the rage now? The Gorsuch thing is part of it — the theft of that seat is as clear an example of evil cheats prospering as you'll ever see. And also that pathetic peacock display of a bombing run and the media reaction to it. That a lumpy, gelatinous pile of possum scat like Trump is now appointing SCOTUS judges and ordering military action rubbed my nose anew in the cold reality of November 2016.
I've never been so filled with hatred and contempt for such a large number of people in my life, and I'm sure it's not healthy. I hate Trump, of course — the lying, conceited, demagogic sack of shit who has already made this country a laughingstock and will wreak irreparable harm. I also hate the beady-eyed, opportunistic Christo-fascist Pence and his smirking rationales for an evil agenda.
I deeply loathe the simpering bubblehead Ivanka, her two sociopathic brothers and her callow, arrogant sprog of a husband. I hate Trump's plagiarizing, emptyheaded wife, who is very much an accomplice to this outrage. I despise the ambulatory carbuncle Bannon and his oafish, supercilious Nazi sidekick Gorka. I have nothing but contempt for the odious lickspittle Priebus.
I long to see the lying fiend Conway suffer a soul-destroying public humiliation that sends her scurrying into the hills, never to be seen again, and that goes double for that animated slab of rancid Spam Spicer. I hate that Keebler Elf-looking KKK retread Sessions. I despise the lying piece of shit Price, a physician who surely knows his new job is to rob people of access to care. I can't stand that toxic waste dump in human form Pruitt or the grifting, self-righteous piece of shit DeVos.
In fact, here's a blanket "FUCK YOU!" to everyone in Trump's cabinet, each campaign surrogate and TV flack, all West Wing employees and every Republican in Congress who is pretending that this goddamned fraud is a legitimately elected commander in chief. And a special "FUCK YOU" to Comey, Putin, Fox News, Breitbart, WikiLeaks and the rest of Trump's enablers or dupes — may they all rot in hell.
While I'm at it, fuck everyone who pays a membership at a Trump club for enriching that family of parasites, and fuck each company that rents office space in a Trump building and every retailer that hawks Trump merchandise for the same reason.
That is all. Have a nice evening, everyone.