One of the projects I'm working on is simulating the patient's cost of treatment for several types of diseases with multiple clinical pathways. We're assuming the patient is on-Exchange and subsidized at various levels. Part of this research project means we need to categorize every single benefit design. I think I'm done with that part of the task and now I need to build a flow model. That will be my fun next week.
But as I was cleaning and organizing the data, more questions started appearing to me. I am using the Healthcare.gov QHP Landscape Public Use Files. Primary Care, specialist, Emergency Room, Inpatient Professional, Inpatient Facility, Generic prescription, Preferred Brand Prescription, Non-Preferred Prescription, and Specialty Prescription are the cost-sharing fields. Deductible and Out of Pocket Maximums for Drug and Medical are the the groupers that are in the field. I categorized a combination as unique if there was any difference in any cell. Two plans that are identical except for a $10 PCP copay that is paid before or after deductible are categorized as two unique plans.
I got curious. Every Plan ID needs a benefit configuration. But many Plan IDs could share a benefit configuration. How has this changed over time?  A score of 1 means every unique Plan ID has a unique benefit design.  A score of 5 means on average 5 plan IDs share the same benefit design.
Below are four counties in Western Pennsylvania that I can tell the story because that was the market that I know cold. I need your help figuring out what this means from a consumer perspective.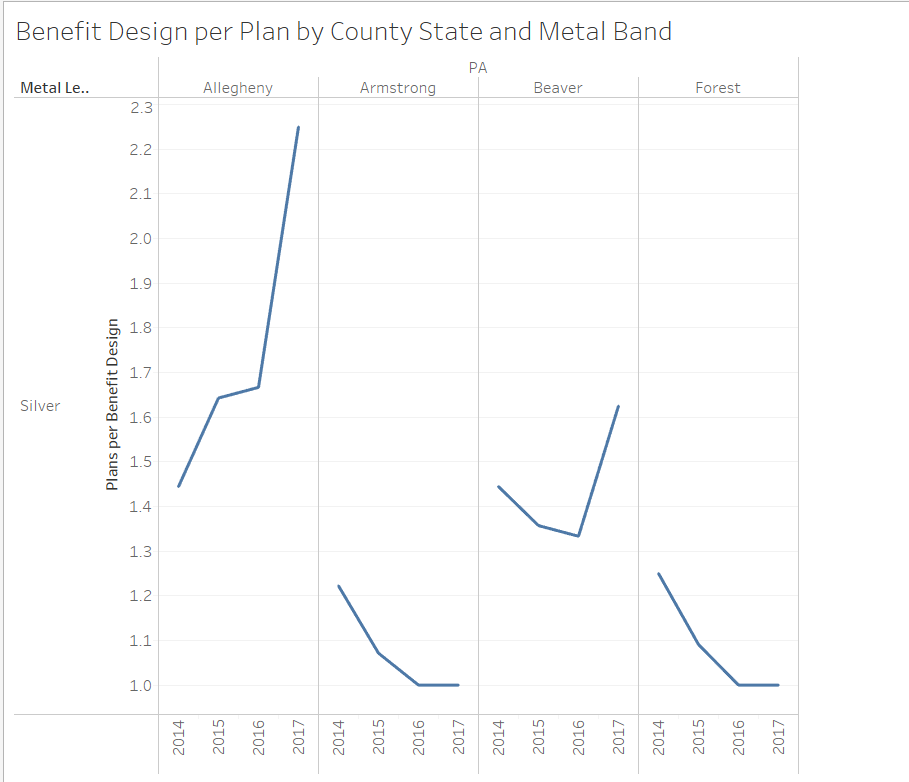 In Allegheny County, there were a few shared benefit designs in 2014.  By 2016 and especially in 2017, the same benefit design was being cloned and attached to three networks for UPMC and almost everyone else has gotten out or offered a few unique plan/benefit combinations. Armstrong and Forest County has a single carrier offering a single network and a lot of benefit designs.  Beaver is an in-between case; there are multiple networks offered by the same carrier (UPMC) where the same benefit package is attached to the network.
Now what the hell does that actually mean?
I don't know?  I think the decision costs and the choice overload costs decrease as the ratio of benefit designs to plans increases but keeping track of that is hard.  It is pragmatically true in Allegheny County where the UPMC Partners, Select and Premium networks all offer the same five benefit designs at a total of fifteen price points.  I think it allows people to filter out the benefits as fundamentally constant and thus focus more on the price and network choices.  But I'm not sure.
What does this mean to you?