The amazing thing here is that for a beat — maybe longer — it's easy to believe this could be real: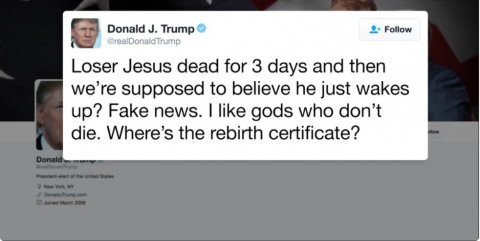 That's via Stephen Colbert, btw, who can hit you with either the broadaxe and the stiletto.
Consider this your reminder that Donald J. Trump is NOT NORMAL.
Yeah — my bleak heart cackled at that, but this is a good day to take a (watchful) rest from fight-or-flight fueled rage and resistance.
May all those for whom this is the most joyous day of the year delight in the hope it embodies.  Hey! The rest of us can rejoice as well, for the idea of redemption exceeds any spiritual or religious tradition.
Happy Easter everyone — or, as we in the Athens of America are experiencing it, have a great first day of summer.
Open Thread.