The polls have closed in France and the election results are starting to come in and it looks like Macron versus Le Pen in the second round. From The Guardian's live blog:
Different broadcasters are giving marginally different figures, but that looks like the basic picture: Macron marginally ahead of Le Pen (some polling institutes have them dead level), with Fillon and Mélenchon trailing on around 19.5%. The Socialist candidate, Hamon, is way down on 6.5%.

The two second-round contestants seem clear. It will be the independent centrist versus the far-right leader – two radically opposing visions of France.

Initial vote estimate: Macron and Le Pen through to runoff

The official first vote estimate for the first round of France's presidential election shows the independent centrist, Emmanuel Macron, has scored 23.7% of the vote and Marine Le Pen 21.7% and have qualified for the second run-off round.

Remember, this is not the official result and those figures could yet change.
#BREAKING Macron, Le Pen shown ahead in French presidential race: projection pic.twitter.com/SZfX3PqM8r

— AFP news agency (@AFP) April 23, 2017
And, as we've become accustomed to, the usual suspects have been out in force on social media:
I looked at the most influential users within the Twitter networks tweeting about #JeVote Surprise, several are American pro-Trump accounts pic.twitter.com/IHToHim6WN

— Jacob Steinblatt (@Jsteinblatt) April 23, 2017
Expect the social media, as well as other forms of external intervention to continue through the second round election.
Twitter bots are spreading fake news & Russian propaganda ahead of French election. https://t.co/7Mb1CKA11l

— Caroline O. (@RVAwonk) April 23, 2017
Revealed: Marine Le Pen signed a 3,000,000€ loan with a Russian bank in June 2016. It's the third loan she's contracted with Russian banks. https://t.co/YjccGT7B8Q

— Thomas Seymat (@tseymat) March 30, 2017
This official FN document states the loan is to fund the presidential campaign. Total Russian loans for Le Pen: 14M€ https://t.co/4P9p4zcBH2

— Thomas Seymat (@tseymat) March 30, 2017
Aux Armes Citoyens!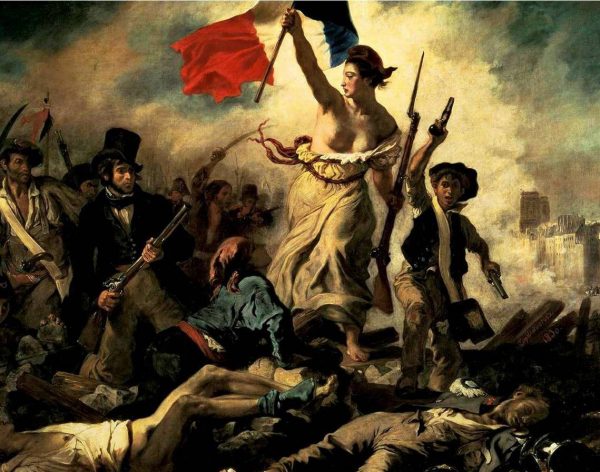 Update at 2:30 PM EDT
From The Guardian's live blog of the election returns:
Polling for a projected second round pitting Macron against Le Pen have consistently shown the centrist winning by a very comfortable margin. Here's a Guardian graphic of the way the polls have developed over recent months: