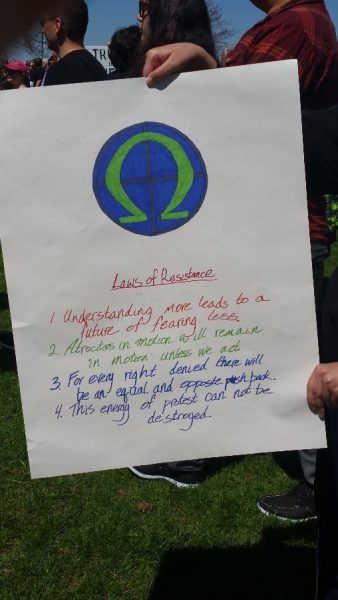 From commentor James J, in Madison. First of many from the BJ community, I'm assuming.
BILL NYE: It's in the US Constitution. To promote the progress of science and useful arts. That enables innovation.https://t.co/1PcmPkuIs4

— Mikel Jollett (@Mikel_Jollett) April 22, 2017
Mr. Charles P. Pierce:
… In 2017, the country needs a series of marches across the landscape to remind itself that scientific progress and American democracy are inextricably bound for their mutual survival. The current president* has leaked a budget that decimates the federal government's role in all manner of scientific research, from the fight against epidemic disease to the war on climate change. Which was why, walking through the drizzly day on the White House end of the National Mall, you saw epidemiologists sharing umbrellas with geologists, or a group of microbiologists huddling low under a spreading cherry tree alongside a knot of anesthesiologists. People walked around dressed as bees and as lobsters and as Beaker, the lab assistant from the Muppet Show. People walked around in overalls and in lab coats. They wore the now-classic pussy hats repurposed to resemble the configurations of the human brain and they wore stethoscopes around their necks…

There was a great deal of infighting—"Some very ugly meetings," said one person familiar with them—about how specifically political the march should be. The older and more conventional scientists—most of them white males, for all that means in every public issue these days—tried to make the march and the events surrounding it as generic as possible.

The younger scientists, a more diverse groups in every way that a group can be, pushed back hard. The available evidence on Saturday was that their side had carried the day. Given the fact that, for example, Scott Pruitt, who took dictation from oil companies when he was Attorney General of Oklahoma, is now running the EPA, they could hardly have lost. More than a few signs reminded the current president* that, without science, he would be as bald as a billiard ball.

Generally, though, there was more than a little sadness on all sides that it ever had come to this, that a country born out of experimentation had lost its faith in its own true creation story, that a country founded by curious, courageous people would become so timid about trusting the risks and rewards of science…
Apart from sharing reports & pics, what's on the agenda for the day?
Trump's so unpopular he got a bunch of nerds to go outside during allergy season

— Mark Agee (@MarkAgee) April 22, 2017
Easily the best protest sign anyone has ever made #MarchForScience #EarthDay pic.twitter.com/uf6pNfIEXT

— ????Gaby Mérida???? (@ThatSpanishLady) April 22, 2017

(I'm guessing from her twitter bio that this was in Boston. It is very Bostonian.)
Alarmed by Trump, thousands of scientists are demonstrating today, many for the first time. I talked to some: https://t.co/gdLsASN4Ny

— Daniel Dale (@ddale8) April 22, 2017
The numbers for the Science March seem high but we won't know until we compare it to the numbers at the placebo march that's also happening

— Siobhan Thompson (@vornietom) April 22, 2017
PERIODIC TABLE DOG #marchforscience #London pic.twitter.com/Hz9E9Jipwo

— Rowan Hooper (@rowhoop) April 22, 2017