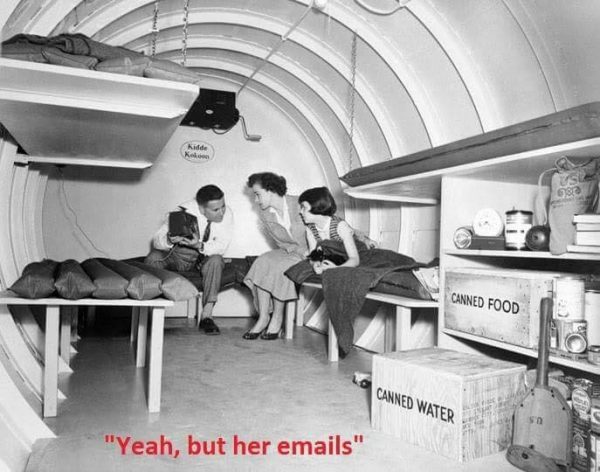 This is but a mere sign of the insanity:
Top Trump administration officials will hold a rare briefing on Wednesday at the White House for the entire U.S. Senate on the situation in North Korea.

All 100 senators have been asked to the White House for the briefing by Secretary of State Rex Tillerson, Secretary of Defense Jim Mattis, Director of National Intelligence Dan Coats and General Joseph Dunford, chairman of the Joint Chiefs of Staff, said White House spokesman Sean Spicer on Monday.

While administration officials routinely travel to Capitol Hill to address members of Congress on foreign policy matters, it is unusual for the entire Senate to go to the White House, and for all four of those officials to be involved.

Wednesday's briefing was originally scheduled for a secure room at the Capitol, but President Donald Trump suggested a shift to the White House, congressional aides said.
So they are wasting a shitload of money building a secure room at the WH that can fit that number instead of having Der Hairpiece going to the Capitol for no reason other than dickwagging "make them come to me" bravado.
Meanwhile, at the NY Times:
Behind the Trump administration's sudden urgency in dealing with the North Korean nuclear crisis lies a stark calculus: a growing body of expert studies and classified intelligence reports that conclude the country is capable of producing a nuclear bomb every six or seven weeks.

That acceleration in pace — impossible to verify until experts get beyond the limited access to North Korean facilities that ended years ago — explains why President Trump and his aides fear they are running out of time. For years, American presidents decided that each incremental improvement in the North's program — another nuclear test, a new variant of a missile — was worrisome, but not worth a confrontation that could spill into open conflict.
Judith Miller was unavailable for comment. *** READ THIS ***
What color will we have to change the blog title to for our impending Korean adventurism?