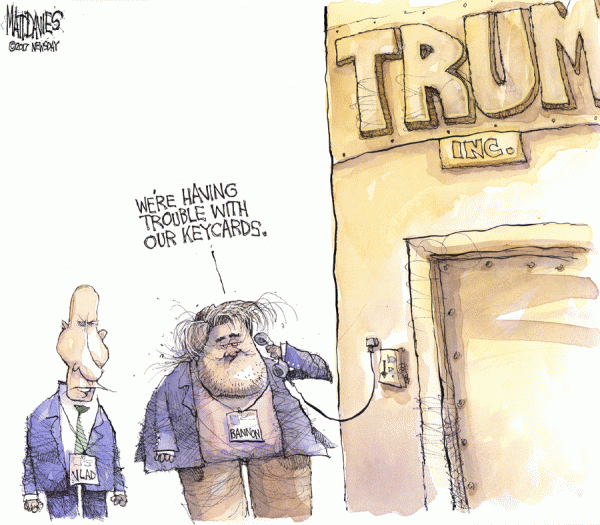 .
Dead Man Walking: A Bannon friend likened him to a terminally ill family member who had been moved to hospice care. https://t.co/l2FZWfd99L

— Ashley Parker (@AshleyRParker) April 13, 2017
Now that Steve Bannon is (theoretically) in eclipse — Vanity Fair even found a handful of former loyalists willing to be quoted denying their dark lord before cockcrow — his true disciples are debating what he might've done differently in the civil war against the Kushner/Cohn/Mnuchin globalist oligarchs. Olivia Nuzzi, professional sharpshooter, reports for NYMag: "The Alt-Right Is Debating Whether Bannon Needs a Better Press Strategy":
Now that Steve Bannon has been temporarily or permanently sidelined by President Donald Trump, his nationalist allies — people who formerly identified as "alt-right," but now reject that label as it has become synonymous with white supremacy — are debating what their man in the White House did wrong and what he might do to salvage the situation. One of the key questions up for debate is whether Bannon should have made better use of ideologically sympathetic media outlets — when he ran Breitbart News, he described it as "the platform" for the alt-right — to get out his side of the story.

The chief strategist to the president might have done better job of holding onto power, the thinking goes, if he were talking to those who want what he wants and have the benefit of seeing things the way they appear outside of the bubble of his "war room," the name Bannon's given his West Wing office…

In some ways, the question of whether Bannon should be cultivating more allies in the press is part of a larger debate over his operating style in the White House — which is to operate in isolation. "I'm not doing this to have friends," he told me. "I don't socialize a lot, I don't bring people into my life. This is like being in the Navy, this is like a duty. I don't enjoy this every day. This is not living; this is a kind of existence."

Though he brought into the White House some of his own staff — Julia Hahn from Breitbart; Andrew Surabian from the Tea Party Express and Alexandra Preate, his personal flack — he has spent little political capital fighting for high-level strategists with whom he could align in ideological disputes…
Perhaps coincidentally, questions are being raised about the oft-told tale that Bannon made $32 million on a canny Seinfeld deal. It wouldn't really matter, at this point, whether he made his grubstake off the Hollywood version of a scratch ticket… except that the alternative would cast his political success as entirely the product of semi-legitimate Robert & Rebekah Mercer money. Not a good look for a self-styled swashbuckling free spirit, at the very least.
But then, Bannon's expulsion from Mar-a-Lago Eden would be a loss to Media Village Idiots far more "respectable" than the Pepe kkkrew… even those at the Grey Lady…
Whether u respect him or not Bannon is a deep if narrow reader who is trying to create an ideological/intellectual foundation for Trumpism. https://t.co/ayLRgX1hta

— Glenn Thrush (@GlennThrush) April 15, 2017
@GlennThrush @maggieNYT This is a dubious conclusion. If you were a deep reader of alchemy, you're no closer to making lead into gold. Not without an atom smasher

— (((Dileep Rao))) (@leepers500) April 15, 2017