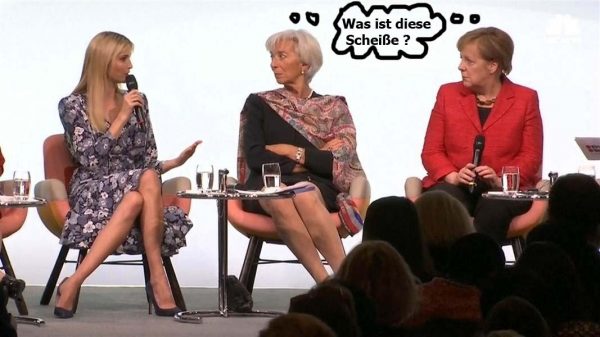 I've long thought we'd be better off if the entire Beltway media contingent were summarily converted to Walmart greeters and their papers' foreign correspondents recalled to replace them, then instructed to cover domestic politics as if still writing dispatches from a foreign capital.
That view was reinforced this morning by the spectacle of the German media politely covering Ivanka Trump like the presumptuous banana republic princess she is, something American infotainment personalities have repeatedly failed to do. Via Politico:
BERLIN — Ivanka Trump arrived in Berlin Tuesday morning armed with facts and figures to recite at what was expected to be a high-brow international summit to discuss women entrepreneurship, alongside German Chancellor Angela Merkel.

But on her first international trip as an official representative of the United States, the first daughter was put on the spot about her father's attitudes toward women, booed and hissed at by the crowd, and grilled by the moderator about what, exactly, her role is in President Donald Trump's administration.

"You're the first daughter of the United States, and you're also an assistant to the president," the moderator, WirtschaftsWoche editor-in-chief Miriam Meckel, said. "The German audience is not that familiar with the concept of a first daughter. I'd like to ask you, what is your role, and who are you representing, your father as president of the United States, the American people, or your business?"

"Certainly not the latter," Ivanka Trump said. "I'm rather unfamiliar with this role as well…It has been a little under 100 days and it has just been a remarkable and incredible journey."
We're all unfamiliar with the role because it shouldn't exist, not outside a tin-horn kleptocracy. But while Trump's sole non-fluff response about her role was to explicitly deny that she represents her business, the only tangible results she's achieved in "office" have accrued to her brand. She's done exactly nothing to "moderate" her lunatic father or advance the vague objectives she supposedly champions, i.e., empowering women and families.
Ivanka Trump, who was deeply involved with her father's campaign and has been instrumental in his administration in the first three months in office, positioned herself as someone who is still in humbling listening tour mode. "I'm striving to think about how best to empower women in the economy," she said, at one point calling herself a feminist. "I have no doubt that coming out of this trip I'll be more informed."

But she was booed and hissed at by the majority-women audience at the conference when she lauded her father for supporting paid leave policies. "I'm very proud of my father's advocacy," she said, calling him "a tremendous champion of supporting families and enabling them to thrive."
The Politico account overdramatizes the reaction (shocking, I know) — it was more of a collective groan at the absurdity of framing the grotesque orange pussy-grabber as an advocate rather than actual booing and hissing (at least on the audio I heard). When asked to respond to the audience reaction, where the elder Trump would have screeched "FAKE NEWS," Ivanka replied with a more modulated, polysyllabic version of that non-response:
"I've certainly heard the criticism from the media, that's been perpetuated," she said, drawing laughs from the audience.
Good for them, because laughter is an appropriate response to that ridiculous deflection. But Ivanka, still determined to pass her gross old fart-sack of a father off as pro-woman, barfed up the following treacle:
"As a daughter, I can speak on a very personal level. I grew up in a house where there were no barriers to what I could accomplish beyond my own perseverance and tenacity. That's not an easy thing to do, he provided that for us. There was no difference [between Trump's treatment of her and her brothers].
Well, Trump didn't repeatedly imply that he'd like to shag the sons, so that's at least one difference. But again, the overweening entitlement and self-regard. This isn't a person who was born on third base and thinks she hit a triple. This is someone who was born in the Diamond Suite in the clubhouse and thinks she won the World Series.
Still, even people who should know better will go on assuming the shitgibbon's chief enabler is a good influence and deserves credit for curbing the worst of her vile shit-stain of a father's excesses. Jon Oliver dispatched this myth ably late last week:
The most telling tidbit was a quote from Ivanka's book, "The Trump Card: Playing to Win in Work and Life," which flat-out telegraphs her current role in the Trump shit-show:
Perception is more important that reality. If someone perceives something to be true, it is more important than if it is in fact true. This doesn't mean you should be duplicitous or deceitful, but don't go out of your way to correct a false assumption if it plays to your advantage.
As Oliver says, the apple didn't fall very far from the orange. And the word I was looking for up top is "Scheiße," which I imagine in thought-bubbles over the heads of the accomplished women who had to share a stage with this vapid dilettante. It's just so embarrassing.