Predictable as the sunrise, Twitler reacted badly to the narcissistic injury of having a court swat down another of his attempts to give force of law to anti-immigrant bigotry. The sting was amplified by timing since Team Trump is desperately cobbling together participation trophy-fodder to counter the narrative that his presidency is in shambles at the 100-day mark.
Trump went on a fact-challenged rant on Twitter this morning, blaming the wrong court and vowing ultimate victory in the SCOTUS. But the truly deranged response was a statement issued on official White House letterhead last night: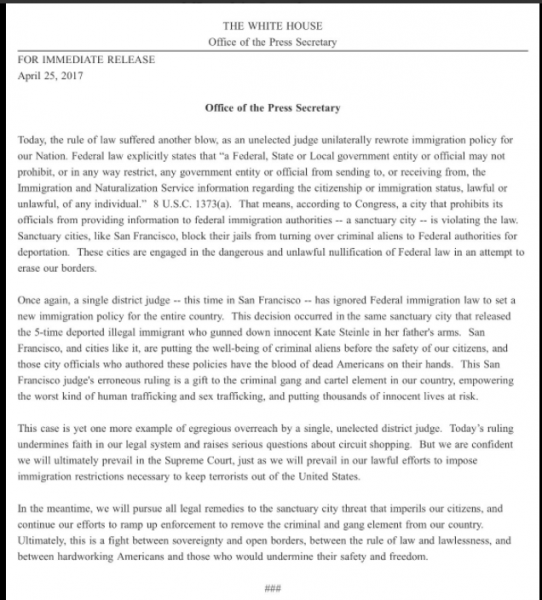 The Twitter rant and official statement are designed to "otherize" a populated swath of the country. They baldly question the jurisdiction of the 9th Circuit or a judge in San Francisco to make rulings affecting "real America." This echoes the incredulity of the diminutive racist occupying Eric Holder's old office over the jurisdiction of a court on "some island in the Pacific," i.e., the State of Hawaii.
But as appalling and divisive as that notion is, more ominous, IMO, is the overheated language about undocumented immigrants in this statement — the conflation of the folks who pick America's tomatoes, design our software, landscape our office parks, excel in our finest universities, etc., with violent criminals who shoot innocent blond women for sport.
It's based on a lie; undocumented immigrants are generally more law abiding than the native born. But worse, it's a particularly corrosive and dangerous lie. There are valid questions about immigration law that we can and should debate. But that's not what Trump's doing here.
Demonizing an entire class of people amounts to a blood libel, and the murder of legal immigrants like Srinivas Kuchibhotla show how quickly lies about undocumented immigrants can infect the minds of unhinged bigots who would target anyone they see as the "other."
History is filled with the tragic consequences of such lies. Trump traveled to the Holocaust Museum to commemorate one such consequence yesterday…the same day his press secretary issued the above statement.