Thanks to John and Adam for asking me to join the distinguished group of key-holders. I feel at home already, having had John step on one of my guest posts and having enjoyed all your animals since John slipped on the ice with Lily. That's about when I found Balloon Juice.
I understand that a placating offering is required for a smooth relationship, hence this post. I'm a morning person and not good at smart stuff at night. I'll do another introductory post tomorrow or on the weekend. But let's get to the important stuff.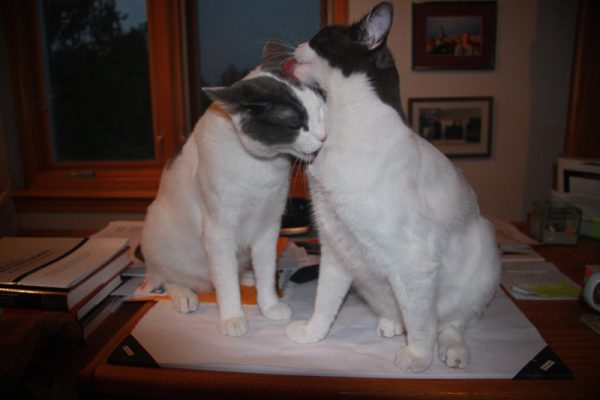 Zooey is on the left, Ric on the right. The shelter called them Zuppa and Ricotta, and I wanted better names, but I didn't want to change them too much. Their backstory is that they were picked up by Animal Control and nobody came to claim them. The shelter wanted them adopted together, and I wanted two cats so that they had companionship. They are about two and a half years old, and I brought them home in early February. They are indeed best buddies and presumably littermates, although nobody has done a DNA test.
I've had cats most of my life, but when Chairman Mao, an applehead Siamese and The Best Cat In The World, died, I was traveling a lot. It wouldn't have worked for me or a new cat. Last fall I brought home a ten-year old tabby, Max, whose owner had to give him up. Unfortunately Max was not well and was with me only three months.
Although their coloring is similar, they have distinct personalities and body types. Ric is wirier and expects more pets, and Zooey is a little bigger and more aloof. Both love human visitors and amaze them by meeting them and demanding affection. I think their time at the shelter has something to do with that. They were in a kennel in the shelter's second-hand store, so they met plenty of people. They also had the run of the store at night.
Zooey is currently sitting behind the monitor.