So ABC has had the travel day worthy of a John Candy movie. I was supposed to pick her up at the airport this morning at 11 am, but got a frantic phone call she had overslept and missed her plane, but she had rescheduled and would be in at 3:30. No big deal, I dealt with the hvac guy and worked and did other things.
At about oneish, I got a text that she had to reschedule and would be leaving at 6:30. No problem, I would get some Chico Fiesta (my favorite Mexican place) and be there to pick her up.
And then the fun started. Her plane was delayed an hour, and when they finally boarded, got 500 feet from the gate and had to turn around for some tests because something was wrong with the engine. That took about an hour, and they determined that the plane was tits up and they unboarded them and poured them all back into the airport bar/lounge. I had to turn around and go home because I had been grocery shopping on the way to the airport, and Chico Fiesta had a wedding rehearsal dinner and was packed and I could not eat.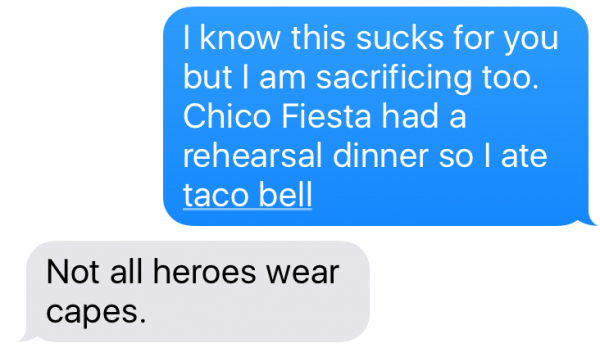 At this point I realized how smart it was for them to put them all back in the bar (where she had basically been since 1 o'clock), because if I had been there I would have already been starring in a viral video on the internet of things. At any rate, the hits kept on coming with multiple new departure times that were all scratched, and she finally is airborne at 11:30 with a 1:15 landing time.
Wheeee.