Someone sounds awfully worried about Sally Yates' testimony before the senate today:

Yates will be questioned this afternoon about her warning to the Trump people regarding Flynn's Russia problem. So Trump is preemptively intimidating her like a sub-literate mafia goon while simultaneously blaming the Obama administration for his own shitty personnel decisions.
President Obama FIRED Flynn before Trump picked him off the trash heap, wound him up and sent him on the "LOCK HER UP!" tour. And apparently Trump's band of grifting idiots didn't bother to vet the utterly compromised crackpot Flynn before sharing highly classified information with him as erstwhile NSA. But President "The Buck Stops Anywhere But Here" can't be bothered with such details.
What are we to conclude from this, aside from the obvious, which is that the person who occupies the Oval Office is a lying, irresponsible, addled dolt — which we already knew? He's worried about this Russia thing, which just won't go away. Should he be?
I hope very much that the Russia investigation turns up a bombshell that removes Trump from office, but I have zero faith it will. Comey is a preening hack who seems convinced that hostility from Republicans and Democrats validates his "last honest man in D.C." conceit. The GOP controls congress, and they've already sold out the country to a demented demagogue, so they'll hamstring every investigation that could endanger their hold on power.
But 2018 hasn't happened yet, and there's still time to prevent the next round of interference. The Democrats have their role to play to stop a hostile foreign power from undermining democracy. The FBI and intelligence communities have theirs. And the media has a responsibility here too.
This might sound like a crazy suggestion, but maybe media outlets like the NYT, etc., could use recent developments abroad as well as upcoming events like the Yates testimony as an excuse to reset the way they approach the gigantic elephant in the room: a hostile foreign power's ongoing meddling in U.S. elections. The way their colleagues in France dealt with a similar attempt by the same outfits to sleaze a fascist into power might be instructive.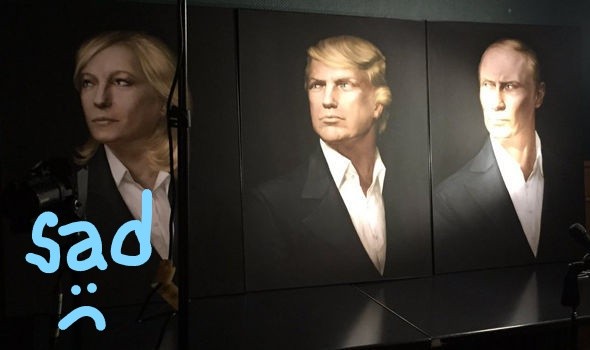 Yates' testimony is expected to directly contradict what Spicer and Priebus told the media about Team Trump's handling of Flynn. Trump, knowing the testimony is likely to be damaging, implied that Yates committed a crime in the above tweet. We know Trump lied about President Obama's "wire tapp" — the mainstream press was surprisingly forthright in saying so. I guess there's a slim chance they'll treat Trump's slander of Yates in a similar manner.
I understand that ironic detachment and profitable horse race babbling are tough addictions to overcome, but it's no exaggeration to say democracy is on the line. And while the Beltway hacks like to pretend they don't want to be part of the story, the opposite is true: they glory in a scenario that allows them to be players rather than merely covering the game.
Well, here's your chance, hacks. The Trump administration has lied to you and vilified you for months. You've refused to engage in serious introspection about your 2016 political coverage, but here's a flashing red neon scandal that doesn't even require that: a recognition that this meddling isn't going away, and a chance to do something about it. Go be little Murrows. Your country needs you, God help us.