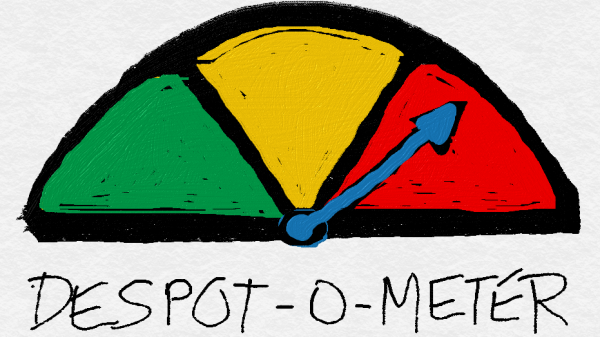 Twitler is live-tweeting the morning shows again, and holy fuckballs! Here he is throwing his lackeys under the bus for pushing out multiple versions of the story behind the Comey firing:
As a very active President with lots of things happening, it is not possible for my surrogates to stand at podium with perfect accuracy!….

— Donald J. Trump (@realDonaldTrump) May 12, 2017
I know, right? When the addled demagogue himself can't keep his story straight, we can hardly expect his henchmen to keep up with the lies as they hatch in his diseased brain pan. But Trump has a solution:
…Maybe the best thing to do would be to cancel all future "press briefings" and hand out written responses for the sake of accuracy???

— Donald J. Trump (@realDonaldTrump) May 12, 2017
Makes sense to me. I'm certain Spicer & Co. would welcome the opportunity to come back in from "among the bushes" and hide in their offices instead of being trotted out daily to repeat laughably obvious falsehoods. But wait — there's more!
James Comey better hope that there are no "tapes" of our conversations before he starts leaking to the press!

— Donald J. Trump (@realDonaldTrump) May 12, 2017
That lathe sound you hear is Richard M. Nixon spinning in his grave. And finally, this:
When James Clapper himself, and virtually everyone else with knowledge of the witch hunt, says there is no collusion, when does it end?

— Donald J. Trump (@realDonaldTrump) May 12, 2017
Of course, those who keep up with current events via sources other than Fox News know Clapper hasn't been party to the ongoing investigation since January 20, 2017, and he made it clear he wasn't privy to the status of the FBI investigation at all. Which is ongoing.
I'm not a lawyer, but isn't this some species of obstruction? And how on earth are we supposed to have confidence that anyone Trump appoints to replace Comey won't have received the message, loud and clear, that his boss expects him (or her) to deep-six the investigation that has inflicted such a grievous narcissistic injury?
And even if by some miracle an honest person is appointed and concludes the investigation, who believes Jefferson Beauregard Sessions III will act appropriately on the evidence submitted? Anyone?
I still think it's possible that Trump really doesn't know about any collusion — he's clearly dumb and malleable enough to have been sleazed into office by cleverer people acting in their own interests. But it's getting harder to believe that every day, with every word he utters and every tweet his stubby little thumbs furiously tap out.
We need a special prosecutor and an independent investigation. To the phones!