ETA: Given Betty's post immediately below, this should settle any last doubts that this blog is not a member of any organized political party…(a gazillion quatloos to all those (many here) who nod to the illustrious forebear who put that opening to such good use).  I'll leave this one up for the Rose-Mary Woods photo, which is worth the price of admission. But Betty got there first in all the relevant detail, so that's where I'm heading for the fun of the discussion.)
———————————–
…the flashbacks seem so real.
At 8:32 this morning, the usurper occupying the Oval Office tweeted this: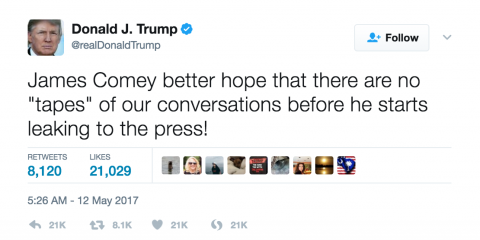 I have several reactions.
First, this: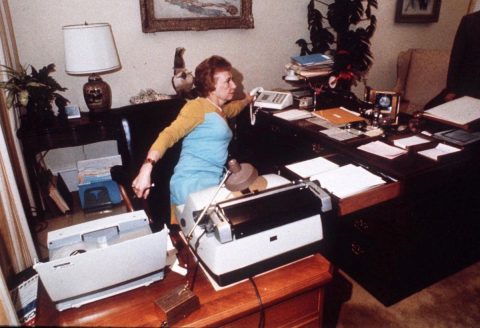 (For all you kids out there, that's Nixon's secretary, Rose Mary Woods, demonstrating how she managed to "accidentally" create an eighteen minute gap in the Oval Office tapes, perfectly placed to eliminate some very interesting discussion of Watergate matters.)*
Second: A question for the legal minds here:  Bob Bauer has an interesting piece over at the Lawfare Blog assessing where Trump has reached on the obstruction of justice spectrum, clearly written before the shitgibbon released the tweet at the top of this post.  He argues (as I, a non-lawyer, read him) that there is an emerging fact pattern consistent with obstruction, but further focused inquiry would be needed to generate an actual case.  So, does this new tweet, explicitly threatening a potential witness in such an obstruction, advance the argument that the president is engaged in an actual, legally-jeopardizing attempt at obstruction?
Third: "Subpoena" has such a lovely ring to it, doesn't it.  I shouldn't still be surprised, but I am: how dumb do you have to be to announce the possibility of evidence that one had no prior reason to suspect might exist?  This tweet from Garry Kasparov is so spot on:

And with that, it's back to the 18th century for me! (Isaac Newton, musing on the virtues of government debt…)  Have at it, y'all.
*Ancient tech nerd that I am, I am totally grooving on the IBM Selectric there. What fabulous machines… ETA: So — you can retire my tech-nerd creds. That's not a Selectric. Ahh well….