On Sunday, Politico reported that there are back-channel discussions in the Senate on healthcare between Democrats and Republicans.
Cassidy's and Collins' efforts haven't limited their talks to the handful of red-state Democrats whom the GOP once eyed as possible converts on health care. Sen. Tom Carper (D-Del.), for one, spoke to Cassidy in March about the Republican's efforts and praised him for the outreach.

"Sooner rather than later, we'll return to those discussions," Carper said.

In addition to Kaine and Carper, Sens. Joe Manchin (D-W.Va.) and Heidi Heitkamp (D-N.D.) have spoken with Republicans in general terms about health care recently, according to several people familiar with the matter. Sen. Lamar Alexander (R-Tenn.), a leading figure in the GOP's effort to repeal Obamacare, has also talked with Democrats including Kaine,
If the skeleton of discussion is Cassidy-Collins, then quiet talks to shape future talks make sense for Democrats in my opinion. As I see it the outcome tree for Democrats to engage on a Cassidy-Collins like discussion look like the chart below: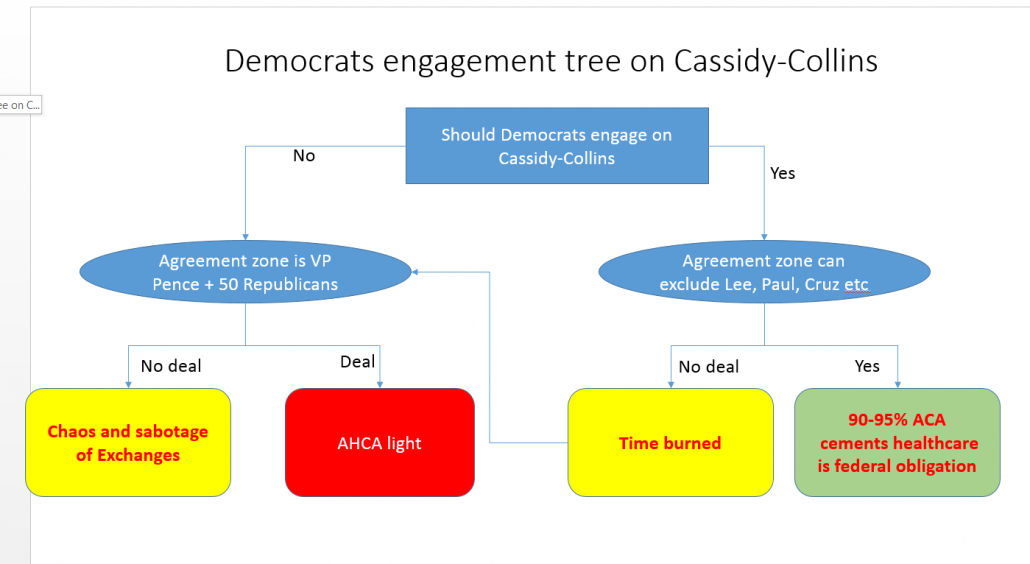 Not engaging is an all or nothing bet that values politics of playing for a massive wave in 2018 and a trifecta in 2020 to correct the policy damage. If a bill that can get 50 Republican Senators and the Vice President to vote for it gets out of the Senate, it will get out of the House. It will be less bad than the AHCA but it will be very bad from a Democratic policy perspective.
Engagement either leads to burning Senate time if there is no productive grounds for a deal which is a good in and of itself in a normal legislative environment and extremely valuable in today's climate or a deal that cements the federal role in healthcare where the argument is over which dial to turn and how far to turn it.
That returns healthcare to normal politics and cements a massive ideological victory for liberalism bought at the cost of a tactical policy retreat and giving up the ability for Democrats to use healthcare as a board with a nail on it to beat up on Republicans in the 2018 midterms.
Cassidy-Collins is fundamentally a healthcare bill.  I am still scratching my head at how to make auto-enrollment work with deductibles for a single individual under $10,000 but it is a healthcare bill.  The AHCA is a tax cut bill with massive Medicaid cuts attached to it.
A few cups of coffee to see if there is a plausible agreement zone by both conservative Democrats in vulnerable seats and Senators who liberals can trust as policy validaters are worth drinking.