My kiddo likes to give me inexpensive children's toys on present-giving occasions such as Mother's Day because 1) they're inexpensive, and 2) I enjoy them. Here's a portrait of Kim Jong-un I made with a Hairy Harry metal shavings and magnet toy I received Sunday: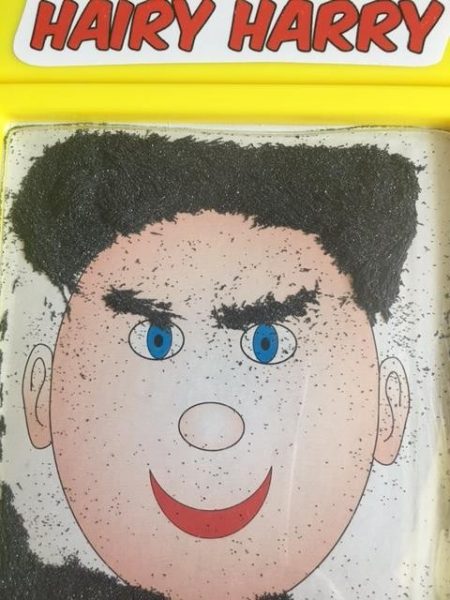 A passable likeness. The Twitler Clown Show is wrecking my productivity, but I'll admit I'm enjoying watching the minions spin and flail. The headlines are all very Watergate: "Turn over the tapes!" "White House under siege!"
What will happen during the overseas trip, do you think? Will Trump piss on the Western Wall? Demand a BLT from the Saudis? Grab the Queen by the…corgi? Proclaim that Anne Frank is doing an amazing job and being recognized more and more?
I am rooting so damn hard for Trump's utter failure and disgrace at this point. It's the patriotic thing to do, IMO. I want to see the whole rotten bunch driven from the White House, their "brand" in tatters and their ill-gotten gains confiscated for damages.
I want the big game hunter sons reduced to auctioning off their guns, and when that money runs out, contracting to some disreputable canned hunting outfit in Texas that caters to rich douchebags, with Uday and Qusay beating the bushes to flush out game and getting gored in the balls by Axis deer.
I want to see Javanka hawking knock-off bags at Walmart Supercenter grand opening events after daddy is resettled in the shittiest dacha in the worst suburb of St Petersburg. The Russia one.
You may say I'm a dreamer. But I'm not the only one.
Anyhoo, open thread!