Low hanging synergy-fruit Ivanka Trump brought her women's empowerment corporate cliché roadshow and shakedown fest to Saudi Arabia along with her embarrassing father. Unsurprisingly, real-life activists who are resisting the nightmarish autocracy in Saudi Arabia weren't buying what the auto-tuned Trump was selling. Via WaPo:
"All the women that Ivanka Trump met have a guardian," said Aziza al-Yousef, a 58-year-old activist here who has campaigned to abolish the guardianship rules [i.e., necessity of obtaining male permission for work, education, travel, healthcare, etc.]. A retired professor of computer science at King Saud University, she was recently rebuffed when she tried to deliver a 14,700-signature petition on eliminating the guardian system to the government.

"All these achievements depend on whether you're lucky to be born in a family where your guardian will be understanding, will help you," Yousef said. "If Ivanka is interested in women empowerment and human rights, she should see activists, and not just officials."

"It's not about Ivanka speaking at the meeting," said activist Loujain al-Hathloul, "but is it actually useful for these women from Saudi Arabia to speak as well? Is their contribution in such events helpful to us Saudi women in general, not princesses or business owners or rich women? Does it actually help us? I doubt it."
I hear you, Saudi sisters. The ambulatory teeth whitening strip's* patter about women's empowerment rings a bit hollow in the States too. Particularly when she holds herself up as an example of how pluck and determination drive entrepreneurial success.
Pffft. It would be a lot easier to watch these entitled pricks monetize the U.S. government if they didn't expect us to pretend that they're doing us all a favor.
PS: Help the sweet old lost dog pictured below find his way home — details here!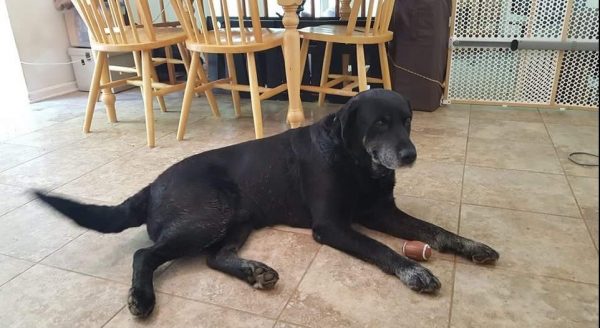 And open thread!
* H/T: Sam Bee