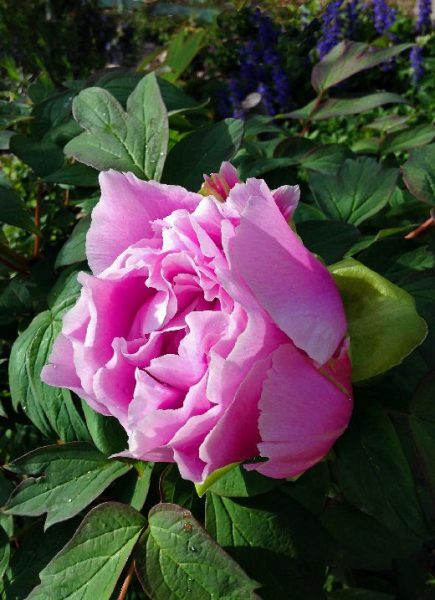 Beloved gardening regular & photography whiz Marvel:
Here in the Willamette Valley, we've had a very wet, very cool (not in the good way) Spring. This week and next finally, FINALLY, are delivering warm sunny days. Suddenly, it's OMG WE'LL NEVER CATCH UP time.

Lucky dogs that we are, with the possible exception of a newish (4-year-old?) tree peony [at top] that still takes a fair amount of coddling, the ornamental portion of the grounds hereabouts is well-established and, except for seemingly endless cycles (starting NOW) of beating down weeds & bugs, we're free to enjoy the stunning color & grace of the perennials we haven't yet killed. Out front, an agreeable assortment of rhodies & azaleas give eye-catching spots of color to even the most
mundane surroundings.

Out back, there also are pockets of Spring color that deliver the goods with little or no encouragemt from us, including a swath of iris (some of which are just lovely natturalized Japanese purples, the
others are a 'gene farm' from a friend's garden — we grow cuttings from her favorites in case her long-listed house finally sells) andferns (etc.), tucked here & there.

Elsewhere, we're breaking our butts to encourage another year's supply of garden goodies, f'rinstance: today started out overcast so we decided to wrestle with Area 51, getting it ready for the 110+ corn starts that have been growing in the greenhouse these last few weeks. My partner roto-tilled while I watched & worried, then I worked a bunch of compost into the fluffy soil and set up irrigation. We
brought the lovelies out for their first taste of Oregon sunshine and called it a day.

Every year we remind ourselves that Panic & Desperation always overtake us at the beginning of our gardening season. We repeat our mantras (e.g., "It's not an infinite number of weeds, just a whale of a lot…it's not an infinite number of weeds….") and try to remember that some people pay good money to get this much stretching & lifting exercise in…and we trust that in a month or two, all this work will slack off and we'll start plucking sweet fresh fruit & veggies from the dirt out there.

Meanwhile, we've commenced our late afternoon practice: a lovely glass of wine with an ibuprofen chaser.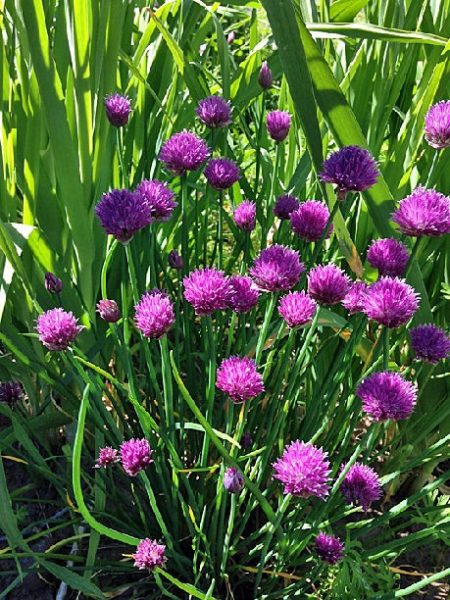 ***********
Around our house, the vibrant unkillable purple species irises are called 'Auburndales', because that's the town where I first dug up a no-longer-flowering overcrowded patch beside the house we were renting, and put the leftover rhizomes into a plastic planter that moved with us when we finally bought this place.
Since we're very much hobby (lazy) gardeners, we spent Saturday at our favorite garden center, picking out annuals and replacement planters and a couple more bags of mulch. (Every weekend between now and August will involve at least one trip to purchase mulch or potting soil or both.) Today I'll be transferring those annuals into the planters, and hopefully finding enough daylight to spread the new mulch before Monday's predicted downpours…
What's going on in your gardens this week?