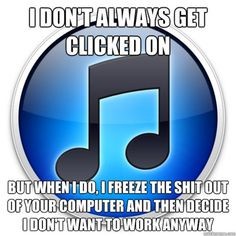 I spent the last month importing every single CD I own. I imported it all to a LaCie external drive.
I opened Itunes today, and it "organized" my external hd and 90% of my music is gone. Here is what I need besides a hockey puck sized sedative and a box of kleenex.
All I fucking want is to import all of my music in .aiff to my LaCie external hd. Then, once it is all there, I want to be able to make sure it can not be deleted, and I can create playlists for my iphone.
That is it. That is all I want. I am reformatting my LaCie, I am deleting everything with my MusicMonkey Pro and doing a fresh install, and I am doing the same with itunes. I am on a Windows PC running Win10 64 bit, and I have a macbook pro as well.
I want point by point instructions. If I need another application, let me know. I will give you my god damned phone number so you can walk me through this. I am ready to fucking break shit.
*** Update ***
Also, I am in a pretty fucking volatile mood right about now so if you have nothing to offer other than "that sucks" or "buy a radio" this is not the goddamned cocksucking thread for you or your shitfuckery.