Blue Cross and Blue Shield of North Carolina just filed their initial rates for the ACA individual market for 2018. The headline will be that they are asking for a 22.9% average rate increase. The second headline is that they assume that Cost Sharing Reduction subsidies will not be paid. That assumption drives 61% of the rate increase. The SERFF filing is here.
There is subtle good news in the rate filing. Another 13% of the rate increase is driven by the reinstitution of the 3% Health Insurance Premium tax. That is a one time hit that is to be baked into the cake of future rates. This means only 26% of the entire rate increase or roughly five percentage points is due to increased medical costs or service utilization. Trend and morbidity is under control. Below are segments of the consumer justification.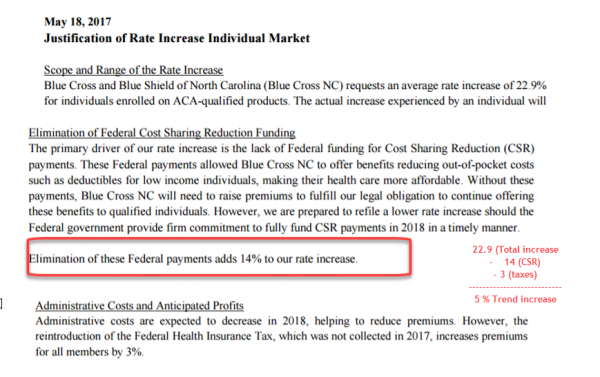 5% trend is a healthy trend. That is a the trend of a market that is fairly stable and reasonably priced.
There are a few other North Carolina notes for the individual markt. Aetna is withdrawing. This should allow Blue Cross and Blue Shield to play aggressive subsidy attachment point games even as they seem to be adapting a single index rate that spreads the CSR compensation costs to all metal bands. Subsidized buyers have the chance of seeing excellent deals on the Exchanges if BCBS-NC prices in the same manner as BCBS-Tennessee prices in their single carrier counties.